Levitt Pavilion: Hip Outdoor Venue or Logistical Nightmare?
Hang on for a minute...we're trying to find some more stories you might like.
Located on Ruby Hill in Denver, Levitt Pavilion opened in July of 2017 with its first summer series of local and world-class bands.
The venue boasts itself as being one of the largest outdoor amphitheaters in Denver with state-of-the-art sound and lighting systems. It's run by a non-profit and presents at least 50 free concerts each year alongside ticketed events.
This past summer, I got the opportunity to see War and Tower of Power–a ticketed show–and I have to say that I was a bit underwhelmed. While the stage setup was unique and the locale was pleasant, the way the stage was oriented made it so that if you weren't in the priority seating area, you couldn't see over the top of people's heads. What's more, those of us who brought our own blanket (which the venue encouraged) were blocked almost completely by those in camping chairs or the ones who decided to stand up and dance. I found that for most of the night, my view of the stage was about 20% unobstructed and 80% blocked by dancers who were utterly oblivious of their surroundings. If you do decide to bring a blanket to the venue, just remember that you run the risk of being eye-level with people's butts for most of the show.
Despite that, I thought, "Okay, I'll still get to hear some good music from two of the most influential funk bands of the 60's and 70's." However, I was thoroughly underwhelmed by their "state-of-the-art" sound system. Even right against the 3-foot fence around the priority seating area, the band sounded washed out and distant despite the lack of even a light breeze to distort it. That said, it certainly carried quite far, allowing it to be heard at a comparable level even at the edge of the venue. I later found out that they legally can't make the band louder because of a local noise ordinance for the neighborhood surrounding Ruby Hill. That seems like poor planning on their part, but I rest my case.
Another common qualm I heard with the people I went to the show with was that the concession stands were poorly managed. One friend of mine waited 45 minutes in line just to get a drink. It seemed that the stands were understaffed and thus wait times were long. One thing I noticed was that the placement of the tents made it so that a big strip of grass right down the middle of the venue was rendered unsuitable for seating. I saw that there was plenty of room along the side of the outer fence to put a few tents and leave room for lines, so I'm not sure why they chose to displace their attendees from some of the best non-VIP seats in the house.
Despite my qualms with the venue itself, I absolutely agree with their mission of building community through live music and presenting local bands and free shows in such a popular and modern venue. I think in that regard, it's absolutely worth it to support the venue. As it is now, the prices for tickets are about spot-on, running from $15 to $20, and all profits go towards producing the free concerts.
As long as Levitt Pavilion makes efforts in the future to improve the sound for general admission and better organize the concession stands, I'd certainly recommend attending a show there.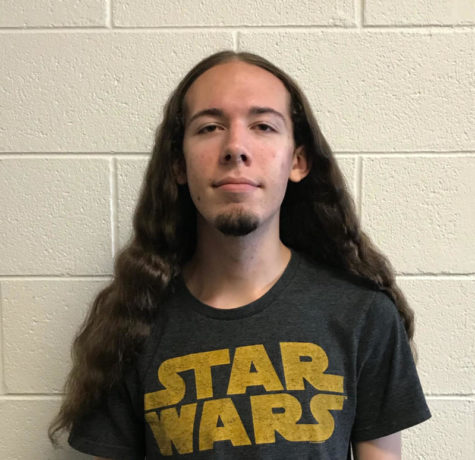 Jaime Bangert, Copy Editor
He's got long hair, looks like a drug dealer, and never gets enough sleep. Besides being the copy editor of The Haystack, he's also an avid gamer and aspiring...