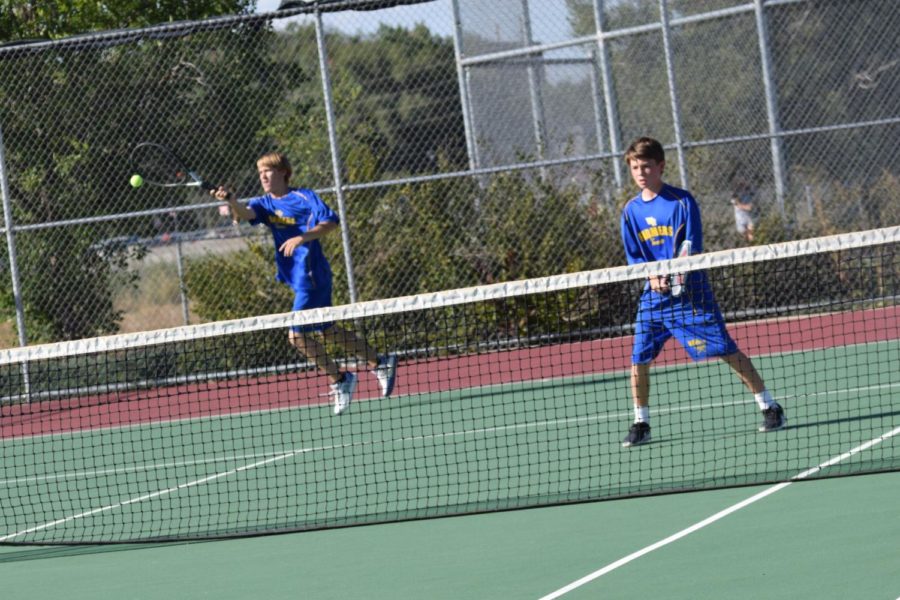 Bailey Duplessis

On Friday, Sept. 19, the men's tennis team held their home opener at Everitt Middle School hosting the Green Mountain Rams.
After having to reschedule two days before, the Farmers were excited to get on the courts. The Farmers varsity team won 7-0 in their matches, receiving their first home win of the year and their first league win of the year.
You never know what you can expect from Colorado weather, so the teams were forced to move the game to an earlier time due to the forecast. The first match took place at 12:30 instead of 2:30. Right out the gate was senior captain Sam Stahl. He led strong winning his matches with his partner sophomore Jack Ziporin and aced a perfect score, not letting the Rams score on them once. 
"My personal season is going really well, with a 2-0 start to the season. I have had great control over my shots, my serves are consistent, and my partner, Jack Ziporin, is a really good player; we have been working well together," said Stahl. 
The Farmers can't seem to catch a break with the weather. The match before had to be rescheduled for Monday, Sept. 9 after being rained out before the first match even started. This time the lightning was so close that they had to cut it early, not allowing the junior varsity team to get a chance to play.
When asked how the weather has affected the matches Stahl replied with, "The weather has been a big factor in our matches because the courts become very slippery with very little water on them, and, as a result, we have had one reschedule and one postponement already this season."
"Rescheduling matches due to weather can be tricky. You try to schedule matches so that the players have some rest in between the competitions… when you have to start rescheduling, oftentimes, you end up playing three or four matches within a five-day schedule. Not only does that have an effect on the player physically and mentally, but it also has an impact on their schoolwork and missing class time," coach Heather McAdams said in regards to the weather.
Overall, the Farmers have had a good season! After having rescheduled matches, they blew out Green Mountain and Conifer High Schools. The overall record is 2-3 and 1-2  in league. The next home match is Sept. 19, at Everitt Middle School. The first match starts at 3:30. Come support your Farmers!