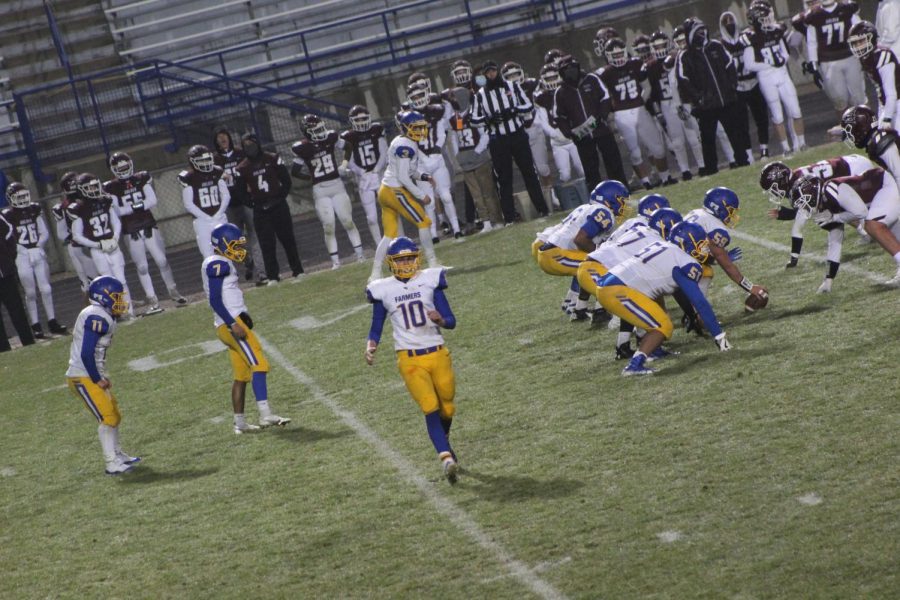 Bailey Duplessis

The 2020 Farmer football season has come to an abrupt and untimely end.
This season has been one for the history books. After having practice after practice canceled, and not knowing if they will be able to play this fall, to having their coach (Stacy Coryell)  resign a couple of days before the first game, the Farmers stood together in this crazy COVID season. The boys finished the season 0-5 after having their final games canceled.
The Farmers had eight graduating seniors this year. #1 Matthias England, #3 Sam McDonough, #7 Dominic Cross, #28 Riley Payne, #44 Jack Vaughn, #51 Sam Mondragon, #54 Chris Smith, and #59 Max Pomponio. They all had very good years on the field, even if none of this year's games went the way they wanted them to go. 
A message from new head coach Nick Leonard to the seniors this year: "First off, I want to say I feel terrible that your season and football career at WRHS came to such an abrupt ending. Even though this season did not go as we planned (in so many ways), you guys did a great job of continuing to battle and set an example of how to fight through adversity. I appreciate everything you have done over the last four years and I am grateful that I have had the privilege to coach the group of you seniors. I will always be here for you if you ever need anything, don't hesitate to ask."
Leonard was thrown into the head coach position in one of the weirdest seasons of all time. "That first week when I took over as head coach was shocking, but exciting at the same time," he said. 
When the news came in about Coach Coryell stepping down as head coach, it was a shocker for everyone, including the Farmers. "The boys were obviously bummed and confused when they heard that Coach Coryell had stepped down," said Leonard. "But I felt they took on the situation extremely well.  The uncertainty of the season allowed the boys to not take any opportunities for granted.  They came together and forged ahead with the mindset of only focusing on what you can control."
There were multiple standout Farmer players this season on both offense and defense. The defense was good at holding opponents back, causing sacks, causing stops, and forcing the loss of yards on multiple plays. Pomponio led the team in sacks with four and caused 27 yards lost on those sacks. Both Cross and Payne had one interception this season helping stop those plays that could have resulted in an opponent scoring. Junior Luciano Vecchiarelli had the most tackles this season with 33 tackles, while tying with Payne for the most solo tackles with 18. The defense always was there to help support that offense. 
On the offensive side, Junior Fransico Munoz led the team by a landslide in rushing this season, running for 306 yards total and averaging about three yards-per-carry. McDonough had the most receiving yards out of the boys with 235 yards, but junior Devon Zurcher had the higher average with 12.3 yards per catch made. McDonough also had the highest total yards gained with 462 total yards. In the quarterback position, Cross threw for 530 yards with a compilation percentage of .429%. 
The Farmers fought through this season and came into every game with a positive mindset, always ready to fight. Senior Chris Smith stated that "We had the strong mindset and hard work put in by the team and coaches." 
"This year, in particular, every opportunity that we had to play was enough motivation to give it all that they had. I expressed to the team each week that you never know when your last play will be," said Leonard about how the team continued to stay motivated and work hard. 
Leonard stated, "I don't think I can say we had a 'best game,' but we did have many great moments… We had sparks of greatness, but we struggled to put it all together in one game." This is important to see. Sparks of greatness and staying together is a true team. 
Overall, the Farmers fought tooth and nail to conquer a strange football season. Nobody knows how sports will be working in the coming months. Will we have sports? Or will they be canceled like they were last spring? Time will only tell. Good luck in the coming season Farmers.