Day Without Hate 2015 Celebrates Peace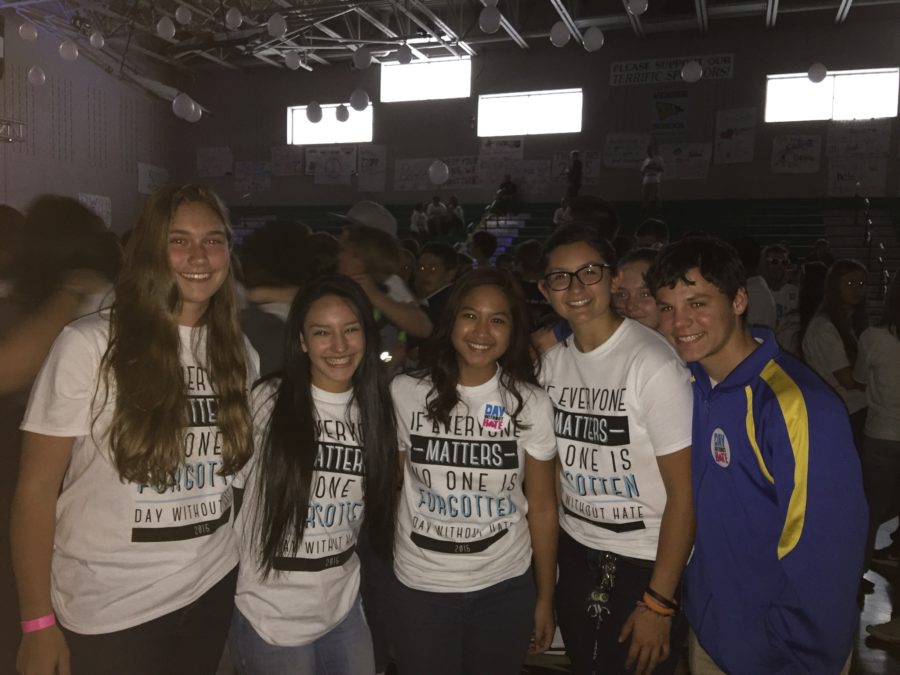 By Mckinnley Bartels and Vanessa Sims
This year, schools from all over, including the schools that started it all, came and supported their communities and their beliefs in the peaceful, united rally of a Day Without Hate on April 24 at Standley Lake High School.
For the past eight years, this tradition has been celebrated with spirit weeks, rallies, and other Jeffco Public Schools celebrations. Last year was the first year that all Colorado schools were invited to be a part of the Day Without Hate rally.
Speakers such as Jamie Laurie and Stephen Beckett, also known as No Enemies and the lead vocalists of the Flobots, went, and they, too, showed their support with music, lessons, and beautiful speeches. Local bands such as Garchow and Defy You Stars came out and played too. Students from other schools, like members of the band Murmur from Lakewood, showed off their talents as well. As with many years in the past, the Arvada West Sparkles cheered, danced, and showed their spirit with an outstanding performance.
The vibe throughout the night was indescribable. The crowd showed great enthusiasm and participated throughout the night in any way possible. Not only was the crowd hyped up, but the singers were just as into it as the audience. This night was a success, and with the help of more schools and students in years to come, it will surely become a nation-wide phenomenon.
Day Without Hate is a day of kindness and nonviolence, a day to show that we are all in this together. It was derived after the horrific tragedy that occurred at Virginia Tech in 2007 when a committee of students and their teachers at Standley Lake High School came together and decided they needed to make a difference; to be the difference.
Standley Lake students wanted to bring attention to these tragedies, hoping to somehow put an end to them. Not too long after throwing idea after idea on the table, they came up with a Day Without Hate.
In time, this new day would be the first step in stopping all school shootings. The Standley Lake committee asked their school and the community to take a stand and wear white.
The turnout was astounding, and not too soon after, Wheat Ridge, Columbine, Dakota Ridge, Chatfield, and many other local schools wanted a voice in this new tradition. In doing this, they showed their peers and the communities around them how they strived to end this violence. Now, with voices heard, messages sent, people all around can't wait to be a part of it.
In 2010, our very own math teacher, Michael Schmidt, became a part of the group and is now one of the many brains behind the tradition. He and a few other Jeffco teachers and students meet up every month for a year. Schmidt contributes his time by not only being one of our amazing teachers here at Wheat Ridge, but he also helps design t-shirts, plan the rally, and gives ideas on how to make the week of Day Without Hate successful.
This year's rally, although a success, did come with some struggles. Schmidt had some issues with getting enough help and support from the student body and staff, but luckily, some of his students stayed after and helped with ideas and even made posters.
"With the rally being at Standley Lake, I felt that it was harder for kids to get motivated. We were really looking forward to using the stadium again, as we did in previous years, but it was already booked. We found that kids showed more spirit and were more willing to help in previous years. In the future, I hope to build up more activities to do throughout the day here at Wheat Ridge, including having inspirational speakers."