The Choirs and Orchestras of Mesa State University Come to Perform At Wheat Ridge High School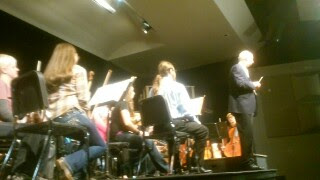 By Alyssah Shear
On Jan. 28  Mesa State University choir and orchestra arrived at Wheat Ridge High School and performed an amazing concert . During the concert students were engaged and seemed to have faded from reality into a story that the music told.
" I felt as if they were dragging me on stage, the sopranos had a very strong and powerful sound and they were definitely my favorite part of the concert along with the cellos," said Nadia Porres, a sophomore at Wheat Ridge High School.
Musicians on stage had very nice stage presence as they moved to the  beat of the music they played and sang. The music brought the audience members to the edge of their chairs as soon as it started, and a loud applause followed every song.
Sarah Lofland a sophomore, said , "I can't seem to choose my favorite part, all of it was simply amazing".
The choir director, Monte Atkinson, and the orchestra director, Alejandro Gomez Guillen, seemed very proud of their students after the concert, although they were not available for interviews.Many of the college students, both orchestra and choir, agreed that being in college orchestras and choirs is more entertaining and more exciting than any other choir or orchestra they had been in.
Not all of the students in the groups are trying to major in music. In fact, most of them are not majoring in music but something much different.
Brian Cook, the Wheat Ridge High School choir teacher says, "I am glad that some of the choir and orchestra students could see this performance and I hope that it encourages them [the high school audience] to be in music, even if that is not what they are trying to major in"