Why Do Teachers Become Teachers?
By Landon Stokes
It's fair to say that not a lot of high schools students, or students in general, want to be teachers–this writer included. But for there to be school teachers, there must be young aspiring students of the craft.
I interviewed Adam Goudge from the math department and Alison Murphy from the English department and asked them about why they wanted to return to the school after their government-mandated learning was done.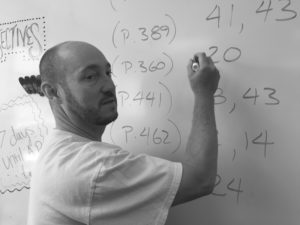 Adam Goudge, Algebra and Statistics
Did you originally want to be a teacher? Or something else?
Originally, I wanted to study psychology, and I thought I wanted to be a college professor once I got into it. But then I went to Grad school and decided I didn't actually want to be a professor. I did some other things, but I always knew I wanted to teach, and finally came back to it later in my late twenties.
Were you always interested in being a math teacher or did you want to go for something else?
No, I didn't care about what I taught. I decided to do math just because the math degree looks really good; it's a nice degree to have. But no, my first envision of teaching was in psychology or sociology. But again, I just wanted to teach–I didn't care what.
Do you wish you had gotten into a different profession or a different area of teaching?
No, I'm in a good place. I wouldn't trade it for anything–I'm doing exactly what I want to do. Possibly other subjects but for sure a high school teacher. I could've taught something else and been fine with it, but definitely high school.
—————————————————————————————————————————-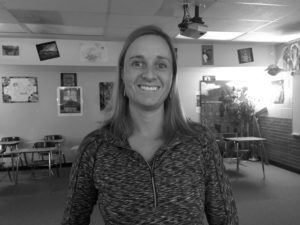 Alison Murphy, English and AP Literature
Did you originally want to be a teacher? Or something else?
I did. Even as a little girl, I would line up all my stuffed animals and teach them things from school, and eventually that turned into junior high when my friends wanted help. It went from junior high to high school and then every job I've had has been in a teaching fashion, and so I knew instantly that I wanted to teach.
I think I'm one of those rare people where in my soul I knew I wanted to teach, and then in high school I had these teachers called the Starkeys, who I had all four years. And they were just these really cool English teachers and people either loved them or hated them but they were so smart. I was one of those English nerds who was totally into it and I thought, "I so want to be you some day." So I went to CSU, got my degree, and this is where I ended up. And as much as I hate grading papers, I love teaching.
Were you always interested in being an English teacher?
Yeah. Not the greatest answer but yeah–always. I guess it's pretty unique but yeah, it's what I've always wanted to do.
Have you ever wished you had done something else other than teaching?
I think maybe different levels of teaching, like going to college. When I get frustrated with some of the younger people here I think, "Maybe going to college would be good." But other than that, no. Always high school, possibly college. But now that I'm getting further into my career my absolute dream job would be half AP literature, half gym. That would be the best schedule ever. But I'd have to go back to school, take some classes, learn how to throw and catch a ball, I think? I dunno. That'll take at least a year.
—————————————————————————————————————————-
What do you think? Most students would never want to come back to their high school after leaving, let alone get a job there and show up every day. But for a select few, school is not just a means to an end, but a passion and an opportunity.