Scaglione Roams Outside of Studio 23 With Art Exhibit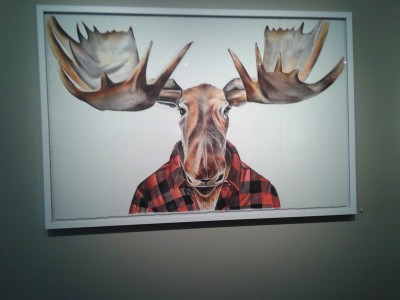 By Jada Lister
Many art teachers in Jeffco are artists themselves;  Franky and Annie Scaglione are no exception.
The husband-and-wife duo are being featured in this year's Jeffco Teacher Solo Exhibition, which is on display at the Arvada Center from April 8 through May 8.
In addition to spending their days helping students develop their artistic abilities, with Franky teaching right here at Wheat Ridge High School and Annie teaching at Pomona High School respectively, they also own My Favorite Colour Studio, which embraces timeless aesthetics in conjunction with nostalgia.
Their current exhibition Right to Roam is inspired by the duo's trips to Yellowstone, Canyonlands, and the Adirondacks. These three national parks hold a great deal of meaning for both of them. Right to Roam features artwork inspired by their travels as well as artifacts that have accompanied Franky and Annie on their travels.
Yellowstone, a place they have visited alone, together, and with their families, transported them to another dimension. Prior to visiting the Canyonlands, they had done a great deal of traveling through the southwest, so the Canyonlands seemed like the natural choice for their next destination. The Adirondacks allowed them to return to their upstate New York roots. The one thing all three national parks have in common is that upon arrival, it was like coming home again.
Their artwork pays homage to the freedom and access with which we can explore the natural world. They hope that their experiences will spark other people's memories and serve as a catalyst for new adventures.