Sweeney Todd Proves a Murderous Good Time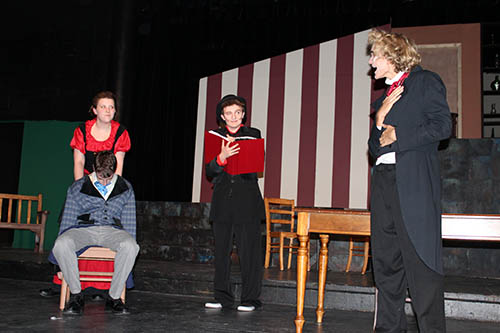 By Rachel Vigil
All who attend Wheat Ridge High School's rendition of Sweeney Todd and the String of Pearls are sure to never look at meat pies the same way again.
Based upon the original story of Sweeney Todd, the play tells the story of a murderous barber.
The first Sweeney Todd story was published as a serial from 1846-1847. As was common at the time, the serial utilized gore and public fears of the time in order to sell stories. It's theatrical version was actually first performed before the serial had finished its publication. Over the years, several more adaptations and stories featuring Sweeney Todd have been published and or performed.
I was lucky enough to preview the show before this Friday and Saturday's performances and was quite impressed. T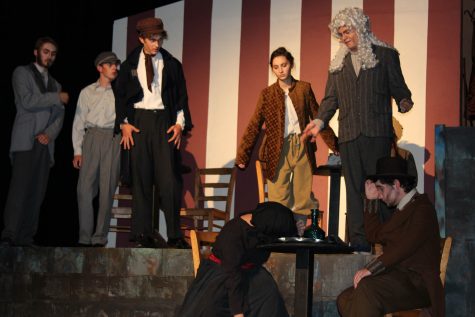 he sets, the acting, and the costumes were all able to immerse the audience in the world of 18th century London. I was to wonder just how long the elaborate sets of the show took to construct. The barber shop was an especially monumental achievement that must have taken countless hours. These sets add to the overall mood of the show and allow for the cast to play their parts in an environment that helped them reach their full potential.
On top of that, the acting was professional and convincing. There was some stumbling over lines, and a few actors did not speak strongly and clearly to the audience, but overall, the cast knew their lines, and exactly how to execute them. In particular, junior Isaac Hoskins, who played the titular role, completely took on the persona of a cold blooded murderer. Some of the best scenes were his monologues, which were filled with anger and a ruthless attitude that would captivate any audience.
Mrs. Lovett, the pie shop owner played by freshman Brooklyn Guida, was also able to maintain her character convincingly throughout the show. Even though her actions were despicable, the acting of Guida elicited sympathy for her character. Even more minor characters, such as junior  Peter Krausa and senior Brandi Lyons had a good presence in every scene. They played off one another very well and controlled both the stage and the attention of the audience whenever they were onstage.  Overall, the entire cast worked very well together. They effectively made you root for the protagonists and fear Todd and his ilk.
This year's production is definitely one you won't want to miss. Its two showings are on Friday and Saturday at 7:00 p.m. Admission is $10 for tickets pre-ordered and those bought at the door. It's definitely worth the cost, and missing this year's show would be a crime far worse than any of Sweeney Todd's.