Presidential Inauguration 2017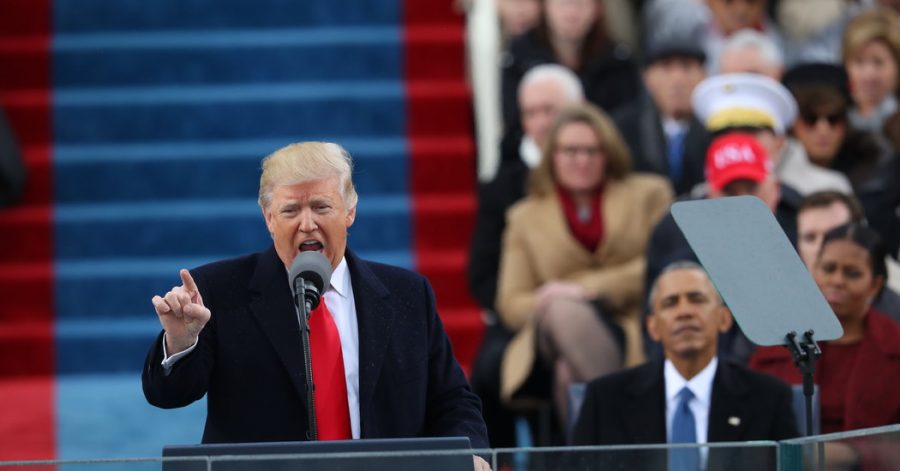 Landon Stokes, Features Editor
February 2, 2017
By Landon Stokes
To the thundering applause of his supporters, Donald Trump was sworn in as the 45th president of the United States on Friday, Jan. 20th.
Mostly staying with tradition, the theme of the inauguration, "Make America Great Again," reflected the president's campaign promises.
After having tea and arriving with former presidential couple Barack and Michelle Obama, President Trump began his inaugural address by thanking Presidents Carter, Clinton, Bush, and Obama before turning his thanks to Americans and supporters around the world.
Continuing on, the newly-inaugurated president made sure to point out that, "…today, we are not merely transferring power from one administration to another or from one party to another, but we are transferring power from Washington, D.C. and giving it back to you, the people."
"The people" was a common theme throughout Trump's address, as well as the idea of "American carnage," or what the president believes to be the current state of the country. Trump continued his speech in the same manner, citing infrastructural disrepair, foreign trade deals, and Wall Street corruption as the main culprits.
Taking a hard stance on foreign affairs, President Trump vowed to keep "America first," which he summed up with a concise statement: "We will follow two simple rules," Trump stated, "buy American, and hire American."
To end his address, the President promised all Americans that their voices will be heard, and that he promises above all, citing his campaign slogan, that, "…together, we will make America great again." To what extent the President will deliver upon his claims is yet to be seen, but one thing is for sure: all eyes will be on Trump and his administration, Americans and foreign alike.