DIY Venues Prosper Around Colorado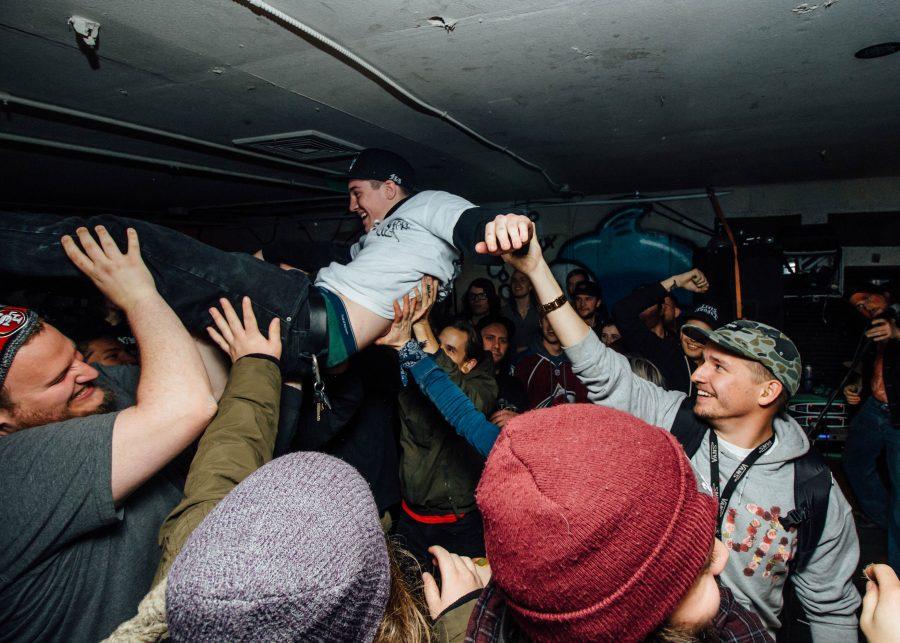 Lily Fraser, Staff Writer
February 3, 2017
By: Lily Fraser
Colorado is filled with monuments and mountains that make the travelers awe and the natives proud.
However, something that the local music lovers enjoy about Colorado has been the Do It  Yourself  (DIY) venues that are scattered around. The walls consist of peeling stickers and spray paint art,  the speakers and microphones blasting the echoing voices of punk, hardcore, pop-punk, shoegaze and other genres.
Hundreds of kids have gathered together to support all types of local music, such as hardcore bands (Remain and Sustain, Fortune's Fool, and Fist Thrower) or the shoegaze/pop-punk sections of the spectrum (Bloomers, Loretta Kill, and Triangle Introverts). Generous bandmates ask for small donations to help the bands make EPs, t-shirts, stickers, and being able to go on tour out of state.
Being a local supporter of all music types, it's such an honor having friends who are extremely musically inclined, along with the people who created such heart-warming places that accept each other, no matter their race, gender, or sexuality. Fellow friends of the local music scene, such as Rose Kemp or Alex Behler, have been attending crust punk and gentle pop shows for years, feeling welcomed and comforted when entering the venue.  
Aaron Saye is the creator and head-honcho of the ever-so-popular Seventh Circle Music Collective, sitting snug on the corner of 7th and Federal. Once called the Blast-O-Mat, Saye transformed the broken down laundromat into a music friendly and safe environment for people of all ages with the OPEN sign placed against the window with a warm, welcoming glow. Stickers and graffiti cover the walls of the rusty garage, surrounded with lawn chairs and homemade skateboarding obstacles. After the door is opened, strings of lights hang delicately above the 3-foot tall wooden stage, big enough to fit up to five members of any band.
Fellow teens who attend or have attended Wheat Ridge enjoy the underground music that blasts late on a Thursday night every other week at Seventh Circle, The Black Sheep or the Flux Capacitor when it was still up and running an hour and a half away in Colorado Springs.
Syrus Coronado, a graduate from Wheat Ridge in 2016, attends and is part of a local band named MØB, who often play at Seventh Circle. His close friend Chris Klausner decided to create this band with Coronado, wanting to step it up from a joke project to the real deal. "I think the atmosphere is very welcoming and happy. I've been in the underground music scene for about five years now," Coronado says. "I have to say that it's been a big part of my life. Throughout the scene, everybody just supports everything you do. No matter what, they'll love what you come out with."
Another local musician, Ian T. Kilcoyne has been a big influence for the hardcore scene. Coming straight out of Colorado Springs, Kilcoyne and his four other buds: Gabe, Michael, Shane, and Tyler all make up Remain and Sustain, a heavy, breakdown-filled hardcore band. They are the nicest, most polite bunch of guys who love what they do, and always encourage others to do the same. "DIY places like the Flux and Seventh Circle are the heart and soul of our community," states Kilcoyne.
Ian and the other boys always message and ask to get photos taken by me whenever they are having a show, making sure to put me on the guest list and that I'll be safe and have a good time without a broken nose, rewarding me in hugs or generous amounts of money for my time spent on them. "I wouldn't have gotten the pleasure of meeting the friends I have and be able to do what I love to do."
Exploring different music scenes and having the motivation to drive almost two hours up into the heart of Colorado Springs has got to be the best decision that any local supporter could do for the bands that are being born. Because of the sponsoring and the love of photos that I contribute to the locals, I have made many friends who are part of bands including Jonathon Wedlund, guitarist of one of the popular female fronted hardcore bands, Fortune's Fool. He has been a regular supporter of local music since back when he lived in Birmingham, Alabama with his old, roommate Andrew Denniston who was also part of a local heavy band 1862, before passing away in 2016.
" I would see the same faces at every show, and it had an optimistic, positive atmosphere that was impossible to ignore. The Flux oozed this same vibe, graffiti and stencil art all over the walls, concrete and brick from end to end, and a makeshift stage that made even empty shows feel intimate," Wedlund says in an email, passionate about having a voice about local underground music and venues that have been created. "I instantly felt welcomed by the usual suspects, and soon became acquainted with the Ostrow brothers who owned the space. Their goal was simple: create a community space for art and music that anyone could enjoy, with a certain amount of respect, of course."
One of the best things that music-loving Coloradans and visitors alike can do is to attending a local show. Supporting the art is so heart-warming, and seeing your best friends release an album and proudly saying that you've seen them live since they formed as a junky band is a great honor. I have supported Fortune's Fool since their lead front woman Phoenix Herrera and her buddies decided to start hardcore and scream into a microphone about real life struggles that people have experienced.
Unfortunately, the Flux Capacitor had been shut down last year, due to unsafe policies and fire hazards. The fire department had shut it down, but the locals haven't stopped there. The Ostrow brothers have raised up to $8,000 for a new venue to build, and are still adding onto the money with an upcoming show on Feb. 4th, 2017.