Principals Say Farewell to the Farm, Look Toward Future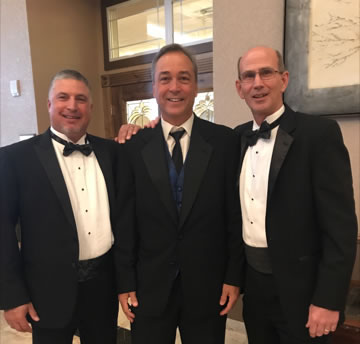 As the school year draws to a close for the summer, we at the Farm are faced with not only saying goodbye to it, but goodbye to three of our principals.
Griff Wirth, principal of Wheat Ridge, Nick DeSimone, assistant principal in charge of the sophomore class as well as the athletics director, and Ken Trager, assistant principal of the junior class, have all decided to leave the school.
Though none have solidified plans for after they leave, all are hoping for a change. Both Trager and Wirth hope to do something different in education.
"I'm kind of interested in maybe moving on to some different areas in education," Trager said. While not sure what exactly this would entail, he thinks that he wants to be, "Outside of just the administrative piece… I've kind of gotten involved in the career explore pathways and would have an interest in looking to see if there's places where I can put my energies in that area."
Wirth also wants to change the current level he works at. "I'm hoping to be able to find a job where I can impact multiple schools or influence greater things," he said. This does not mean, however, that he wants to take any sort of district leadership position such as superintendent. Instead, like Trager, Wirth hopes to continue in vein of his work on projects such as the career explore program. He wants, "Some kind of job where you can think different," rather than a superintendent's job where, "You have a lot of the bureaucratic and political stuff that has gotten to be a grind on you."
DeSimone, on the other hand, has less specific plans. "No, I don't know. I'm excited… There are different possibilities floating around depending on how much I want to work and work at something and depending on how much I enjoy it."
Both Wirth and Trager started here 10 years ago in the positions they currently hold. DeSimone has worked here for 18 years. He began as the athletic director.
All three also have hopes for the future of the school in the new administrators' hands. Trager hopes that they will be, "Open and interested in continuing to develop the pathways we have."
Perhaps a result of his long tenure here, DeSimone hopes that they will "Understand the tradition of excellence here and [how] you're not going to add to it, you're going to uphold it."
Wirth wants them to have, "An ability to listen and learn. I hope that they understand that the job will be to inspire people and motivate people. I hope they have a continually innovative mindset about… what you do at your school based on the kids who are walking through your door." Even with some differences in their answers, all three clearly want someone who will take the best possible care or the school.
Wirth, Trager, and DeSimone did have the exact same answer to one question: they all will miss the people at this school most of all. "I live in Longmont and over all 17 years I've been driving over 45 miles each way. Why? Why would you do that? You've got to love where you're going to and the people you're working with," said DeSimone. "[Leaving] that will be tough. That won't be replaced." They may not miss all aspects of the school, but are sure to miss the people who form the school.