Admin Moves Farm Forward
As a new school year begins for all students on the Farm, three new principals have also begun their new positions.
Last year, principal Griff Wirth, assistant principal Ken Traeger, and assistant principal and athletic director Nick DeSimone all decided to retire. All three of their replacements have come from different schools.
Principal Josh Cooley was formerly an assistant principal at Rangeview High School, a larger school than Wheat Ridge that is in the Aurora Public Schools district. As a new presence in the school, Cooley doesn't plan any major changes for the school this year.
Cooley stated in a recent interview, "My goal is to build relationships with teachers, students, [and] with the community and gain everybody's perspective on what is great about being at Wheat Ridge High School and what needs to be improved."
Similarly, the new assistant principal and athletic director, Jeremy Cheuvront, plans to evaluate the athletic's department before implementing any new changes, saying that it, "Would not be fair," of him to do so. Cheuvront especially feels this way in the face of a long history of success in Wheat Ridge's athletic department. He was formerly assistant principal and athletic director at Alameda International High School, another Jefferson County school.
While avoiding any major changes, both do have smaller changes they have already begun to implement. Cooley is in the process of forming a communications committee made up of teachers to address a lack of communication that has often plagued the school. As for sporting events, Cheuvront would like to increase attendance from students, though he was impressed with the crowd at Wheat Ridge's first football game vs. Pueblo South.
The third new hire is assistant principal Patrick Rock, who hails from Vista Peak Preparatory, where he was a gym teacher. He is the activities director, and will as such be in charge of all non-athletic student organizations. Rock hopes that he will be able to expand Wheat Ridge's offering of clubs. "I want to make sure that all kids have someplace to go and a group to be a part of," Rock stated. To do this, Rock wants to, "Talk to students…about what clubs they might be interested in and see if we can get teachers involved in sponsoring those."
Some of the most notable changes in the school this year have come not from the new administration, but rather the district. Students, of course, will have noticed that most doors that lead in and out of the school have been turned into emergency exits with alarms attached. The district was also behind the change in Wheat Ridge's website. Both of these would have come without the change in principals.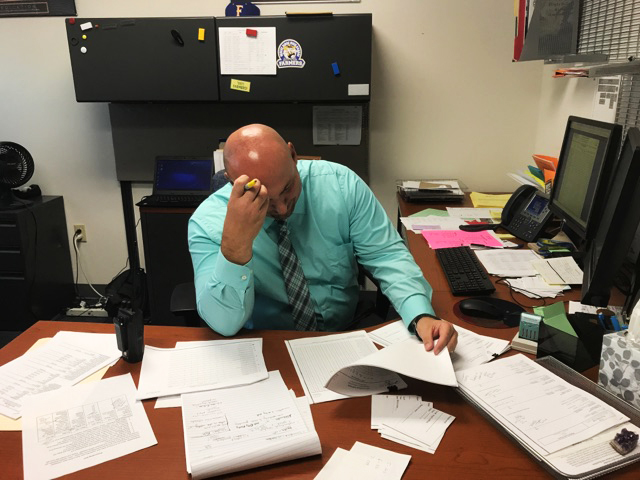 The new principals have appreciated the atmosphere at the school, all describing it as friendly and full of engaged students.
Cooley, when asked what his favorite aspect of the school was thus far replied that it was, "The people and how welcoming everybody is. I've really appreciated how I've had staff members, teachers, students, community members all just popping into my office and asking how I'm doing."
Though there may be a large change in the faces of the main office, the atmosphere of the school has remained largely unchanged. The new principals will bring some small tweaks to the lives of Wheat Ridge's students, but plan to get a feel for the school before drastically altering anything.