Denver Author Visits Wheat Ridge High School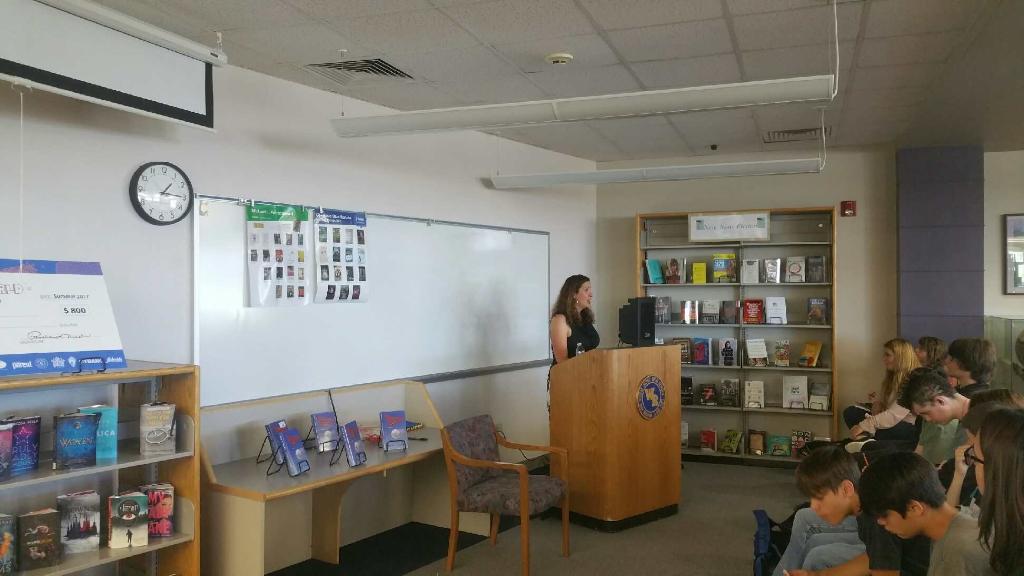 Stories bring us a great deal of emotions; anger, dismalness, and joy.
Our feelings can be discovered buried between the many pages of a book, lathered in several television seasons, or in the midst of our very own lives. Stories are everywhere, regardless if we catch them the first time or not, and we overlook the fact that stories are told in several forms. One form that we all commonly know is a book. A book is different from a film or cinematic structured story in the heightened emotional aspect that comes along with holding the object in your arms, and gliding your fingers across the slivers of wood to flip the page. The emotions we receive after bingeing at page after page can be incredible. But after that euphoric feeling is introduced, we reach the plot. The problem that had been inevitably doomed to reach us. But the funny part about this inevitable occurrence, is that we enjoy this. The anticipation of what could possibly happen next.
"If everything was perfect, it wouldn't be a story," says local author, Jenny Shank. "We like hearing about other people's problems." Shank is a Denver author residing in Boulder of Colorado who grew up in Denver. As time had progressed, Shank had also earned both of her degrees after attending the University of Colorado and the University of Notre Dame in Indiana. Throughout her years of life, Shank has written an abundant amount of reviews, essays, and stories in varied journalism organizations, such as, The Washington Post, as well as limitless others. One thing in particular that the former author has published with a successful debut is her signature book, The Ringer, published in 2011. The book won the High Plains Book Award in fiction and received a considerable amount of attention from other large publications. Though reaching a peak part of her success as an author and journalist is profound, Shank has also received a lot more important factors that are more fulfilling rather than the annual feedback.
"Between the two, I believe experience is more of value than factual information."Shank stated after being asked which amongst the two options is more important and how one must write a story. "The experience you're having here is distinct. Someone in Florida is having a different experience, someone in Nebraska is having a different experience. It's all about how you convey your story." And Shank is right. Our experiences are extremely important, but if we cannot fully and clearly express the story and elaborate on what occurred, then the message of our story will be difficult to comprehend. We must also incorporate an abundant amount of our vocabulary when trying to describe a certain phrase or array of words. "Explore, specify, and expand on a certain word. How much you elaborate will grasp your reader's attention," she said. The ability to express and plant imagery in one's mind is the portion Shank mostly expanded on, but she had also discussed the amount of time is needed in order to research, enrich, and normalize the factual information in a book in order for it to run smoothly.
As Shank expanded more on what it takes to write a story, Shank also mentioned things about her life in Denver and how her environment inspired to write her book, The Ringer. Shank was a young girl when she personally saw police raids and in specifics, heard about the controversial police raid occurrence in 1999. Around this time and prior to, the Chicano movement took place. The Chicano movement's purpose was to extend a hand to Mexican Americans and their civil rights in the 1960's. Shank also mentioned two of the "El movimiento"'s largest advocates Cesar Chavez and Corky Gonzales' impact on the movement as a whole. "It was really odd to see this type of thing happen in front of me. Seeing people who were my friends. Who lived on the same block as me. It was just like, we're all friends." Shank said. This alone led her to educate herself on numerous topics and cultures surrounding this, thus leading Shank to her inspiration of her book.
Stories are everywhere and anywhere. We can find stories in numerous places, one of those places being in our very own lives. Shank said, "Ultimately, I believe stories keep us wondering. They continue to keep us healthy." She is right. Stories and issues in our lives keep us balanced. We learn and feel things we would have never known prior, and we take them with us for an extended amount of time. Stories and writing is an art that several people overlook on a constant basis, but we can all say that we have learned something from Shank: Stories are important, and it's a vital thing we need in order survive as a large group of people.