Varsity Volleyball Tries to Recover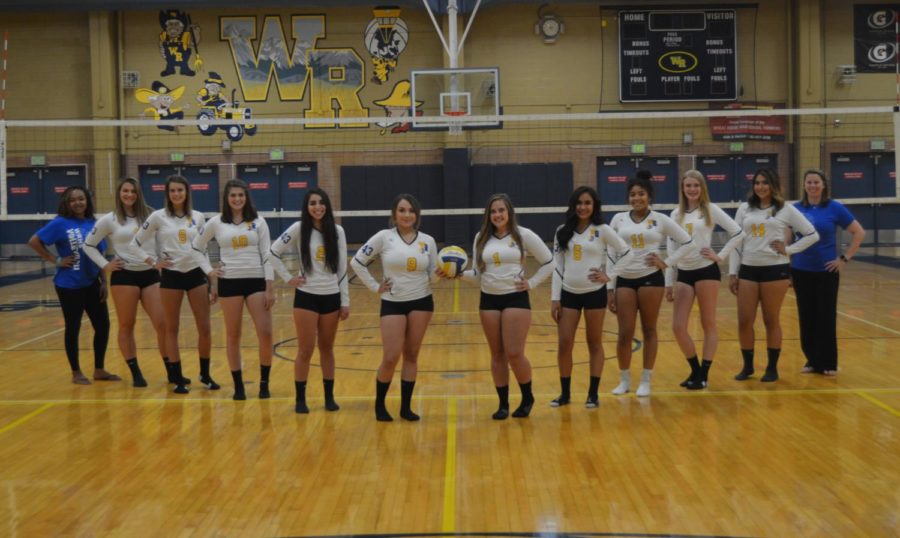 The girls Wheat Ridge Volleyball team started their season Thursday, August 24th against Summit High School, losing their first game of the season.
The team is now nine games in, with a record of 3-6. The weekend of Sept. 25th  the ladies played a tournament, going against three high schools.The ladies lost two out of their three games. They lost against Chatfield, and Liberty High School; the only team they won against was Mountain Ridge.
Although the team had a rough weekend at the tournament they are very happy with this season in an interview with senior, Coleen Vecchiarelli and junior, Kaydee Koch they said it is "way better than last season".
The Varsity roster for this season is:  junior Francesca Maturo, plays defensive specialist, senior Dariana Robles plays defensive specialist, freshman Clara Anderson, plays opposite position and outside hitter, senior Allie Gammel, plays outside hitter,  senior Enali Alvidrez, plays setter, and defensive specialist, senior Kalina Moss, plays setter and opposite position,  senior Dominique Gilbert, plays outside hitter and opposite position, senior Kaydee Koch, plays middle hitter, senior Carolina Blanco, plays middle hitter, senior Colleen Vecchiarelli, plays libero, and defensive specialist. In an interview with Colleen Vecchiarelli she said she thinks they are having a "alright season" and she "really likes the team this year". She looks forward to playing in college.
The girls have nine games left, two at Wheat Ridge, on Oct 5th,  and Oct 17. Come out and support the varsity girls. The coach for varsity is Heather Champlin, Coach Champlin is highly liked by the varsity girls. Coach Champlin played on the Wheat Ridge volleyball team as well when she went here; she graduated the year of 2005. The team hopes to make it to playoffs this year but highly doubt they'll make it because of previous years. The varsity team is going to be losing their whole team next year except for one freshman and a junior, so it is up to the freshman, sophomore, junior, and this years seniors to build a new varsity team. The Wheat Ridge varsity volleyball team is ranked 9,049 nationally, 202 in Colorado, and 45 in Colorado 4A schools. Despite the rankings, the team has improved and will keep improving for future years. We are wishing the team good luck on the rest of their season.