Everything You Need to Know About the 75th Golden Globes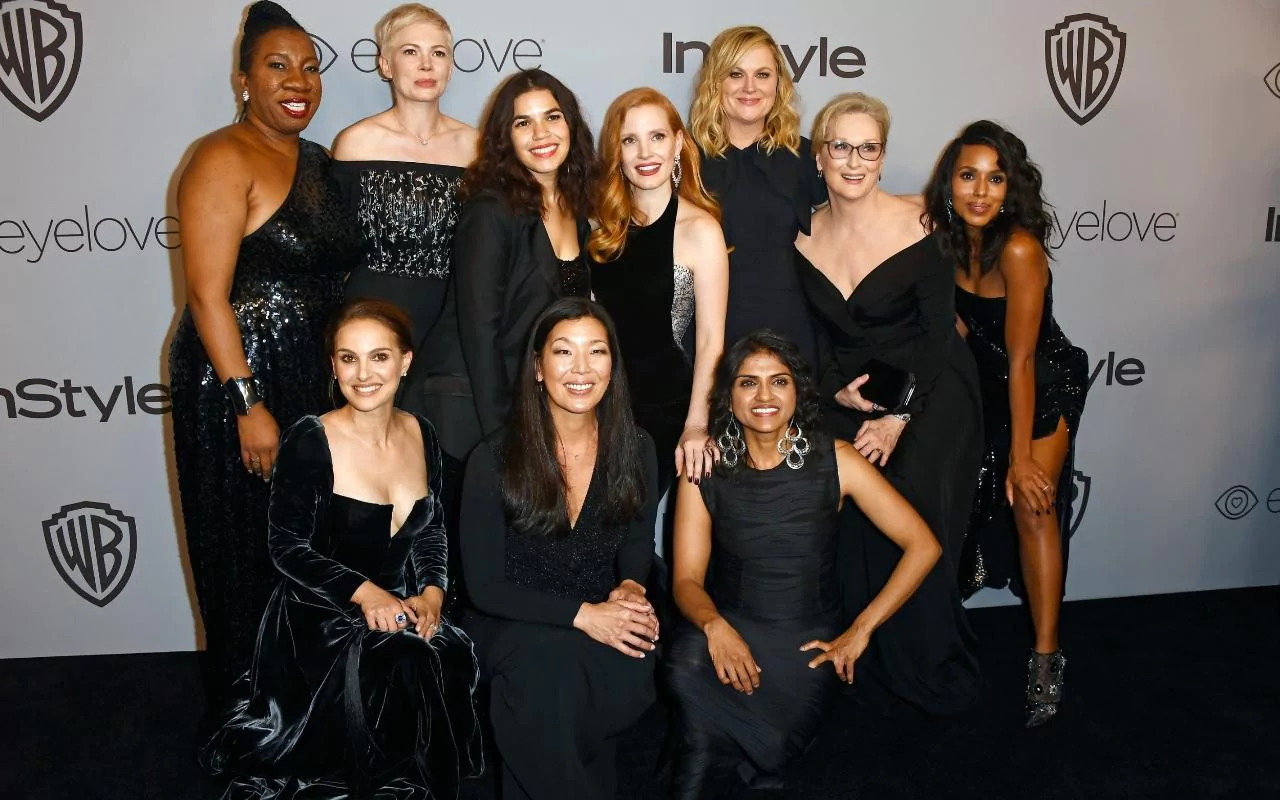 The 75th Golden Globe Awards was broadcasted on Jan. 7, and it definitely made some Hollywood history.
Seth Meyers hosted the night and didn't settle for any subtle jokes, slamming Harvey Weinstein every opportunity he had. The majority of celebrities wore black dresses and suits in support of #metoo and of the "time's up" movement. They wore pins that said "time's up" to emphasize the end of men abusing their power not only in Hollywood but everywhere. Celebrities also brought along advocates for these movements to the award show to promote their messages. The evening was unquestionably a night for the women; they were recognized and appreciated in a way they've never been before.
The night was beautiful, but, like all award shows, awkward moments found their way in. Natalie Portman and Ron Howard announced the nominees and award winner for the best director. Portman made sure to emphasize how all the nominees were males making things very awkward. James Franco won the Best Performance in a Comedy award for Disaster Artist. He invited Tommy Wiseau up to the stage; Wiseau tried to steal the mic before Franco had a chance to speak, but was awkwardly cut off by Franco. When Nicole Kidman won her award she went to kiss husband Keith Urban and totally missed his lips. Ewan McGregor thanked both his wife of 22 years and his current girlfriend in the same breath. Allison Janney wore a bird on her shoulder to make fun of a character from her movie I, Tonya. Jennifer Aniston pulled Carol Burnett's ear.
There were many highlights of the night. One moment of the award show was Oprah Winfrey's speech after she received the Cecil B. DeMille award for extraordinary achievement in entertainment. She not only spoke on the rights of women, but she spoke about the rights of black women and how it's time for them to start holding positions in success. She told the story of Recy Taylor, a woman of color who was abducted and raped by six white men in 1944, and how she never received justice. She also discussed the bravery of Rosa Parks. "The idea of intersectional feminism, once a distant aspiration, suddenly felt like an obtainable goal," wrote Bianca Lambert from Popsugar. Oprah used her platform to create hope and to also educate people on the endless possibilities there are when people are united and working on what's right.
"A new day on the horizon and when that new day finally dawns it will be because of a lot of magnificent women and some pretty phenomenal men fighting hard to make sure that they become the leaders who take us to the time when nobody ever has to say me too again," said Winfrey.
Award Winners:
Lady Bird – Best Musical or Comedy Motion Picture
Three Billboards Outside Ebbing, Missouri – Best Drama Motion Picture
Frances McDormand – Best Performance by an Actress in a Drama Motion Picture
Gary Oldman – Best Performance by an Actor in a Drama Motion Picture
Saoirse Ronan – Best Performance by an Actress in a Musical or Comedy Motion Picture
James Franco – Best Performance by an Actor in a Musical or Comedy Motion Picture
Allison Janney – Best Performance by an Actress in a Supporting Role in any Motion Picture.
Sam Rockwell – Best Performance by an Actor in a Supporting Role in any Motion Picture.
Guillermo del Toro – Best Director of a Motion Picture.
Martin McDonagh – Best Screenplay of a Motion Picture.
Coco – Best Animated Motion Picture.
In the Fade – The Best Foreign Language Motion Picture.
Alexandre Desplat – Best Original Score Motion Picture.
This is Me by Justin Paul and Benj Pasek – Best Original Song in a Motion Picture.
The Handmaid's Tale – Best Drama Television Series.
The Marvelous Mrs. Maisel – Best Comedy Television Series.
Big Little Lies – Best Limited Television Series or Motion Picture for Television.
Nicole Kidman – Best Performance by an Actress in a Limited Series or Motion Picture.
Ewan McGregor – Best Performance by an Actor in a Limited Series or Motion Picture.
Elisabeth Moss – Best Performance by an Actress in a Television Drama Series.
Sterling K. Brown – Best Performance by an Actor in a Television Drama Series.
Rachel Brosnahan – Best Performance by an Actress in a Musical or Comedy Television Series
Aziz Ansari – Best Performance by an Actor in a Musical or Comedy Television Series
Lauren Dern – Best Performance by an Actress in a Supporting Role in a Series, Limited Series or Motion Picture made for Television
Alexander Skarsgard – Best Performance by an Actor in a Supporting Role in a Series, Limited Series or Motion Picture made for Television
Oprah – The Cecil B. DeMille Award