The Cooley Carpet Caper
Hang on for a minute...we're trying to find some more stories you might like.
Although it is his first year here, Joshua Cooley has big plans for Wheat Ridge High School, both inside the building and out.
Along with the various small changes Cooley has made around the school, like the ID stickers and talk of one lunch period. Cooley also talked of making aesthetic changes to the building so as to make a more comfortable learning environment.
"I would like to get more round tables in the lunchroom, like the ones we had in the lobby. It makes it feel like a more communal atmosphere," reported Cooley. The current cafeteria setup, with its long narrow tables placed row-by-row, feels more like a prison than a school, said Junior Zoey Womble.
Cooley also spoke of external reparations being made. "We pulled all the bushes along the south side of the school, since those bushes were just nasty, and we are looking at adding more trees around the school." said Cooley.
Pat Rock, the freshman vice principal, also talked about external upkeep the school has been actively engaged in. "Down towards the gym we filled in some of the areas where trees had died, and in the spring we will be working with the district to plant new trees around the school," said Rock.
Yet it seemed that Cooley's biggest focus is on replacing the carpet in various areas around the school, with the carpet in the annex being his biggest focus. "We have gotten some estimates for replacing the carpeting in the annex," said Cooley "But a project that big and expensive will take more time and administrative coordination than other, smaller projects." Because of the larger scope of an endeavor like this, the school will likely take this on before tackling other improvements.
This seems very promising, as our administration has a defined plan about what they want to accomplish in terms of revamping our school and property. But issues arise when you start looking at larger and more expensive changes. The school receives a lump sum every year, given by the district from which it is provided by the state, with the total amount being proportional to the number of students enrolled. As of the 2017/2018 Jefferson County Public Schools' funding plan, each school receives $7,483 per student. With about 1,300 students in attendance, Wheat Ridge received about $9,727,900 this year.
That number may sound huge, certainly more than enough to make some general repairs, but Cooley said that most of that budget goes towards staffing and benefits for staff. When asked how much is reserved for maintenance, Cooley couldn't give an exact number. Yet when you consider all else that this school must accomplish within that lump sum, including paychecks, paying bills, new textbooks, et., maintenance for non-essentials falls fairly low on the list.
But the administration is eager to hear what the Wheat Ridge High School students, parents, and staff have to say and what they would like, with Rock saying that the school "Is always open to input from teachers and students." The school plans on replacing part of the carpet within the next year.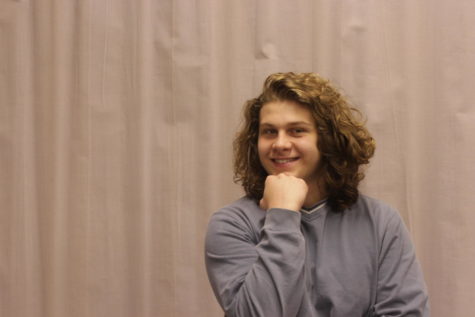 Matthew Dragani, Rookie Reporter
Matt Dragani is a homeless-looking reporter born in Columbus, Ohio.