The New Black Panther Film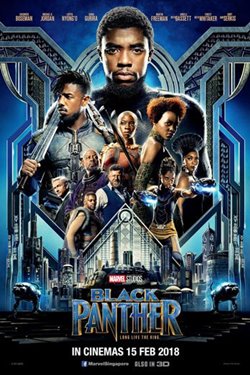 Hang on for a minute...we're trying to find some more stories you might like.
First appearing in the box office hit, Captain America: Civil War, the acclaimed character, the Black Panther, is getting his own film.
The film extends the story of the Black Panther or T'Challa, the prince of the fictional African nation Wakanda. After the death of his father in the film Captain America: Civil War, the newly crowned king returns back to his home country and faces numerous problems and conflicts while home and must team up with Dora Milaje, an all female special force that is native in Wakanda.
The film cost a staggering 200 million dollars to produce and the movie includes notable actors such as Chadwick Boseman as Black Panther, Michael B. Jordan, Lupita Nyong'o, Danai Gurira, Martin Freeman and Angela Bassett. The film has received positive reviews and has a broken multiple box office records since its release, including a $218 million opening weekend.
The film was officially announced in Oct. 2015, and by the end of the year, casting and production for the film had begun. The film is being praised for showing representation of black people in the film industry. According to Carvell Wallace, a writer for the New York Times, "Black Panther is a Hollywood movie, and Wakanda is a fictional nation. But coming when they do, from a director like Coogler, they must also function as a place for multiple generations of black Americans to store some of our most deeply held aspirations. We have for centuries sought to either find or create a promised land where we would be untroubled by the criminal horrors of our American existence.".
Black Panther also has an impact on people in Africa. Girls in Africa are finally getting representation in the film industry. The film shows a numerous amount of strong African women which left a positive impact on many people in Africa. Black Panther shows just how beautiful Africa is compared to how other films seem to present it.