Farmers Accept Outstanding Scholarships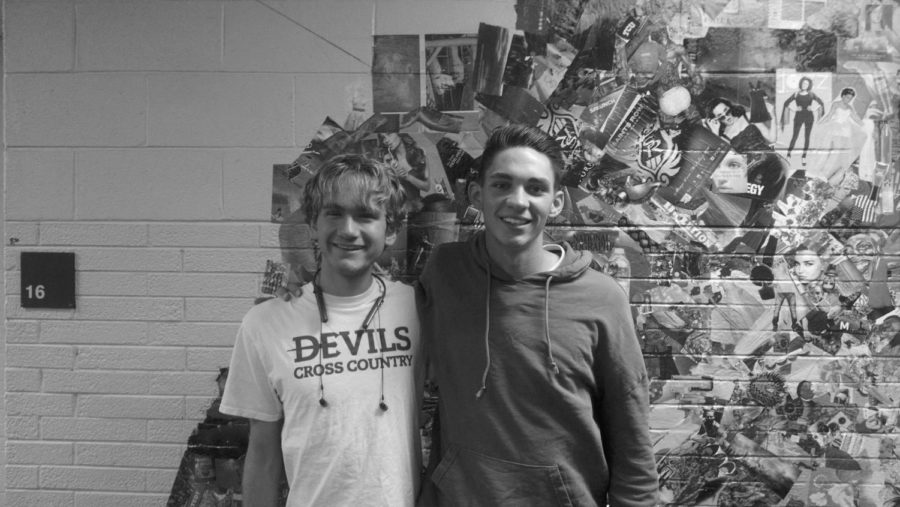 This year, two of our outstanding seniors, Isaac Hoskins and Joe Whitney, have been awarded the prestigious titles of Daniels Scholar and Boettcher Scholar, respectively.
For two students from the same school to win these scholarships in the same year is pretty incredible, as applications are highly competitive and require the highest level of achievement and character.
The Daniels Scholarship is awarded to students from Colorado, New Mexico, Utah and Wyoming who demonstrate financial need and show outstanding leadership and academic quality. As of March 2018, the Daniels Fund has awarded over $170 million to students to go towards tuition and other fees for any accredited nonprofit university in the United States.
Hoskins recalls that he got an email late in March, not announcing the results, but instead telling him to expect the results of his application in the mail at a later date. Despite his aggravation at the roundabout nature of the situation, he waited four whole hours outside his home for the mailman to come the first day he was told he could expect the letter. Sadly, the letter did not come that day. Instead, he was surprised when his family came to get him from a cross country team tryout with an oversized envelope in tow. He sat there in the car, surrounded by the people he cares about most, tears streaming down his face at the incredible news.
"There are many smart and hardworking people with struggles [who applied for the scholarship,]" says Hoskins, "and those people are amazing." What allowed him to be recognized above the other applicants, according to Hoskins, was the fact that he has always seen himself as a "hopeful person" and did his best to "demonstrate that hope" and "thank Bill Daniels for the hope that he gives students with this scholarship" through the last of the 10 essays he wrote for the application.
Hoskins plans to attend the University of the Sciences in Philadelphia, majoring in microbiology, minoring in humanities, and running cross country and track. He was also invited to take part in their BS/MD program in cooperation with Cooper Medical School as a dual degree program. He is excited to be representing Wheat Ridge and Colorado as a whole as he moves on to the next chapter of his life.
Like the Daniels fund, the Boettcher Scholarship recognizes students from Colorado with financial need, academic prowess, and outstanding character. It provides full tuition, a living stipend, book allowances, and opportunities for grants for any four year university in Colorado. In addition, Boettcher scholars are granted access to exclusive events throughout the year and the opportunity to nominate a teacher for a recognition award amounting to $1,000.
Whitney recalls that he received the news on March 23 after getting back from Outdoor Lab. The letter was waiting for him when he got home, rather unassuming and vague in its first lines, but revealing that he was a Boettcher Scholar.
"I had no idea if I was a good candidate," says Whitney. "I was shocked. The moment I found out was pretty surreal, [but] definitely rewarding." He says that the deciding factor for his victory was his "work ethic and dedication," in addition to his well-rounded transcript. He has been heavily involved in athletics, art, and of course academics, as he is a valedictorian. Whitney plans on attending the Colorado School of Mines, majoring in electrical engineering with a minor in aerospace.
With May 15 coming up fast, these two remarkable students will spend their last days as high school students and their first days as college freshman. Their futures, like all of ours, are a mystery. But one can rest assured that their achievements so far have been recognized and will continue to be recognized on this path to higher academia.