New School Schedule
Hang on for a minute...we're trying to find some more stories you might like.
Wheat Ridge started the 2018-2019 school year with a brand new bell schedule.
Start and end times have been changed, eliminating two lunches, and creating a new class for every student, called Farmer Time. Changing the old schedule came up last year when principal Josh Cooley became the new principal and teachers came to Cooley about how to improve the school. Cooley created one committee and a new schedule soon became the main topic to improving the school.
There were two committees, the Schedule committee and the Farmer time committee. Counselors, teachers and principals were on these committees. These teachers and counselors made decisions on changing the schedule and creating Farmer Time. Now there is only one lunch, this was tested out last year and is now in place. A major reason this was put in place was to eliminate the overload of requests to get fifth period off so that the kids could have lunch with their friends, making it easier for counselors to schedule off periods. One lunch also monitors kids ditching, if there is one lunch then the staff knows where everyone is and can get rid of ditching during lunches. Generally speaking, the teachers like one lunch despite it being crowded, but it has improved a lot and teachers are satisfied with this change.
A big outrage in the new schedule is the new class creation called Farmer Time. Farmer Time is a class where students can connect to one person in the building all four years. "We are hitting Freshman, Sophomores, Juniors, and Seniors, they are all getting attention from a teacher", said counselor Heather Hanson. Farmer Time eliminates seminar and Senior advisement. Counselors saw that freshman and seniors did very well but they saw drops in the sophomores and juniors and they have a hypothesis that is because they didn't get one on one attention like the Freshman or Seniors, and this is another reason for creating this new class. Taking away seminar from freshman can possibly affect the Freshman but they are willing to experiment with it because they are focusing on all grades now. Although the staff thinks this is a big improvement and change for the school, many students are disappointed with this new class. "I feel like I only needed that kind of structure as a Freshman, but now I am a senior and think I am responsible enough to do the things without Farmer Time," says Senior Nevaeh Valtierra. This class doesn't count as an actual class so this is the reasoning for changing the start times from 7:25 to 7:20 and the end times from 2:35 to 2:50. The state requires a certain amount of minutes students need to be in class, since this class takes up 45 minutes the school has to add that time back into the schedule so that the students get all the minutes they need. Although this class isn't technically a class, it is .25 of an elective credit.
There is only the Farmer Time committee now to keep improving this class, Bill Blandon doesn't see any change in the future with the schedule. He and the staff like the changes and think it has been an improvement to the school. As time passes they will change things that aren't working out, but for now it is a set schedule.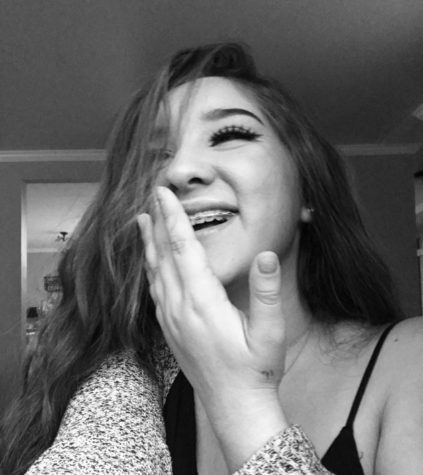 Madison Kime, Staff Writer
I'm a funny girl, but no one knows that because I don't talk so that is unfortunate.