Wildfires Wearing Down the West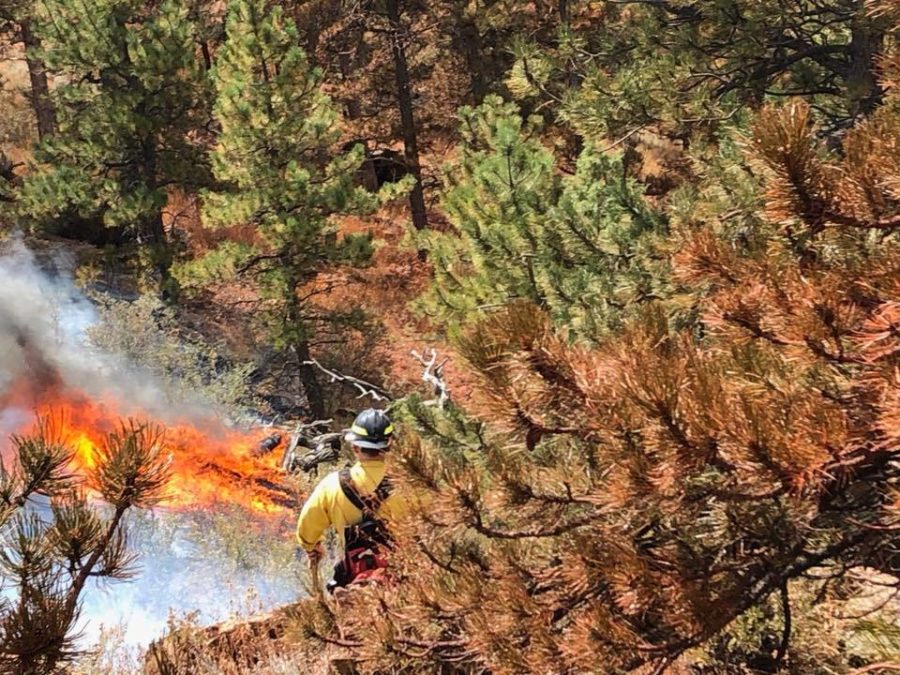 The recent fires spreading throughout California have been the largest and most destructive in state history. Hundreds of thousands of acres have been charred, taking with it thousands of residences and dozens of human lives. The fire stretches all over the state, from the California-Oregon border to Napa County, as well as torching huge swathes of once pristine wilderness in places like Yosemite and Mendocino national parks.
One of the reasons this wildfire season has been so destructive is because it has been unusually dry and hot, creating the perfect combination of dead trees and grass to fuel a massive fire. The timeline of these fires is difficult to follow, but at the peak of the season there were 18 fires burning simultaneously. The largest of these fires, but now called the Mendocino Complex fire, is actually comprised of two smaller fires, called the Ranch fire and the River fire. The Mendocino fire alone is responsible for destroying more than 450,000 acres of land, destroyed 277 buildings (including 150 residences), damaging 37 other structures and killing four people, including three firefighters. The Mendocino Complex fire has been burning since July 27th, and (as of September 1st) is at 96% containment after a hard-fought battle with deployed teams of firefighters.
The second largest- yet by far the most damaging- fire to start this season was the Carr Fire, which has been burning since July 23rd. It has consumed 229,651 acres, less than half that of the Mendocino Complex, yet has destroyed more than 1,000 residences alone, as well as 22 commercial structures and 503 outbuildings and has damaged almost 300 more, as well as taking three civilian lives and five firefighters. The Carr Fire is almost entirely contained, currently at 98%.
Though the fires in California have dominated much of the news cycle, many fires much closer to home have sprout up as well. This season so far, more than 1,500 fires have burned almost half a million acres. As in California, this wildfire season has had a massive and and catastrophic impact. While most of the fires in the state have been contained or are quickly approaching containment, some are still giving firefighters trouble. One of the largest fires still currently burning in the state, The Bull Draw Fire near Nucla, CO, has burned more than 30,000 and is only at 60% containment due to some previous flare ups and changes that escalated the situation. Though it is still burning, firefighters on the scene have remained confident that the fire will soon reach 100% containment.
Another fire near Durango, CO has reached 50,000 acres and has also become the source of a civil lawsuit against the Durango & Silverton Narrow Gauge Railroad Company. The company has been accused of starting the fire, now called the 416 fire, by running its coal fired steam engines in the middle of an extreme drought, when fire restrictions had been enacted. The fire has caused millions of dollars in property damage to local homes and businesses, and has greatly affected the tourist economy of these areas. In response, more than half a dozen home and business owners have brought a case against the company to seek unspecified damages. The fire was started when a burning ember came up out of the vintage trains smoke stack, and landed nearby in a pile of dry brush by the companies Narrow Gauge tracks, eventually spreading to the surrounding area.
In the wake of this event, many are wondering how the situation deteriorated to this level in such a short period of time, and if anything can be done to prevent or remedy another situation of this magnitude. One new technology firefighters have begun to take advantage of to combat these record breaking infernos are drones. These UAVs (unmanned aerial vehicles) have proved to be a huge boon to firefighting efforts, allowing firefighters to identify people trapped in buildings through walls via the use of thermal technology. This allows firefighters to more efficiently navigate dangerous fires to rescue trapped civilians, as well as being able to identify such civilians even without having eyes on them. These new applications for drone technology helps to make firefighter's jobs a little easier while also reducing the risk they face.
Unfortunately, fires like these are unlikely to cease in the future. Many experts have written that as climate change worsens and conditions become hotter and drier, fires like these are more likely to sprout up. By 2100, many estimate that fires burning at least 25,000 acres will occur 50% more often, and as soon as 2055, wildfire insurance is expected to increase by 18%. These might not seem massively significant, but as all these factors begin to compound, areas in the western United States will be become more prone to such events – and become increasingly dangerous to live in.