New Horizon's Spacecraft Completes Flyby of Ultima Thule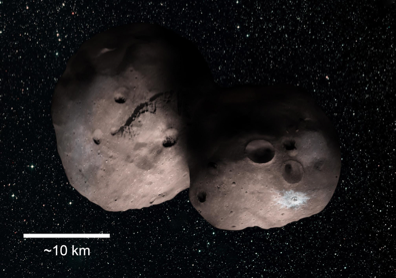 NASA's New Horizons spacecraft has achieved the feat of completing a flyby of the extraterrestrial object MU69, nicknamed Ultima Thule.
The flyby of Ultima Thule occured on Jan. 1 bringing in the new year with the farthest observation of an object reached by a spacecraft, a landmark event. This was the second feat achieved by the New Horizons mission, the first being its close observation of Pluto.
The mission is headed by principal investigator Alan Stern, who works at the Southwest Research Institute in Boulder, Colorado. The spacecraft was built and is being operated and led at the Johns Hopkins Applied Physics Laboratory.
The New Horizons spacecraft was originally launched in January of 2006. Its purpose was to study Pluto, as well as going deeper into the Kuiper Belt, which is where Ultima Thule is located. In 2015, the mission completed a six-month study and flyby of Pluto. This flyby resulted in a multitude of discoveries, including the revelation of icy mountains and a clearer image of Pluto's moon, Charon.
Ultima Thule is an object that, according to the NASA website, "may have a shape similar to a bowling pin, spinning end over end." It has been discovered the object is a contact binary, meaning the two spheres are connected in a sort of figure eight shape.
The mission team is hoping to use this flyby as a means of getting a peek into the formation of planets.
The images that resulted from the flyby have been put into animations/slide shows of the images picturing the object getting clearer as the object turns and one of the object getting closer to the viewer as it goes on. You can check this out at this link: http://pluto.jhuapl.edu/News-Center/News-Article.php?page=20190115
The press briefings and Q-and-A with the New Horizons mission team were covered by NASA's social media channels from Dec. 31 to Jan. 3. Other notable attention on the mission was a live blog by space.com and a song from Astrophysicist Brian May, titled New Horizons (Ultima Thule Mix).
Data from the flyby will continue to be transmitted to Earth for the coming months, so this is only the beginning of the story of New Horizons' encounter with Ultima Thule.