The Farm Takes on Winter Sports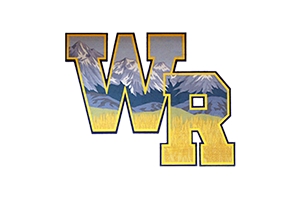 Winter has been a good time for Wheat Ridge Farmer sports, from basketball all the way to wrestling. Boys basketball is sitting up top with 10-1 in Jeffco 4A teams.
Girls basketball has a pretty good record with 8-14. Girls swimming is doing well with two wins and three losses. Finally in boys wrestling the best record is Frank Castillo with a record of 29-7.
In boys basketball, the Farmers lead the Jeffco 4A undefeated. Overall, they are 18-4. A huge accomplishment of theirs this season is that they beat the Golden Demons for the first time in 10 years on Jan. 16. For stat leaders we have senior Julian Claussen with the highest points per game average with 15.4 points; senior Zeke Van Tuyl has the highest rebounds per game average with 8.1 rebounds, and senior Blair McVicker has the highest assists per game average with 5.3 assists (according to MaxPreps).
When asked about how the season is going, senior, Van Tuyl said, "This season is going really well; the team is very close, and we are all very motivated to win the league and perhaps the state championships." Best of luck to boys basketball.
Girls basketball may not be number one in league, but they are doing well with their overall record with eight wins and fourteen losses. They put their heart into every game and played hard. They never hang their head low when they lose. The girls team just gets better and try again next game. Every win is a huge confidence booster for these girls. Stat leaders for the girls are sophomore Jillian Bergren with an average of nine points per game, senior Marissa Chatman has an average of 7.4 rebounds per game, and junior Ari Bezjak with an average of 1.3 assists per game (according to MaxPreps).
Bezjak, one of the captains of the girls basketball team, had this to say about how the season has gone so far, "Although we play against very hard teams, we play our hearts out and don't give up, which has made us a stronger team." Good luck for the rest of the season Farmers.
In girls swimming, they have a decent record at 2-3. Several swimmers are league champions in the 200 free relay including juniors Abbie McAdams, Ellie Gothard, Clara Buchmann, and sophomore Kate Peterson. The swimmers put in lots of hard work every practice. Some of the top swimmers of the more popular races are sophomore Kate Peterson with a 0:24.94 in the 50 free, Kate Peterson again with a 0:54.50 in the 100 free, and freshman Lauren McLean with 5:28.63 in the 500 free.
When asked about how the season has gone and the teamwork, sophomore Corinne Guth said, "I would say this season has definitely been one to remember. A fair amount of laughs and hard work were put into every meet and every practice. The support we gave one another was really special. We are a great group of girls that share the love of swim." Here is to a great season, swimmers.
Finally, the wrestling team. Wrestling is different than other sports because the wrestlers have their own personal record instead of one combined record of the whole team. On Friday, Feb. 1, Wheat Ridge hosted the conference tournament. The Farmers did quite well, with seniors Frank Castillo and Jayce Chea placing first place in all-conference. Castillo has the best personal record of 29-7 on the team.
Chea reflected on his last season as a wrestler for Wheat Ridge: "This has definitely been my greatest season so far; I have just took first team all-conference finishing with a record of 26-5. It's a lot of work but it's also a lot of fun just to see how much your teammates and even yourself change and get better over time. And state is right around the corner, and I'm more ready than I've ever been." Best of luck to the Farmers going to state.
Winter has been a strong sports period for Wheat Ridge. With some Farmer wrestlers going to state and boys basketball possibly winning league with an almost perfect record, this is a huge confidence boost for the Farmers involved in sports. Good luck and finish the season strong, Farmers!