Eight Free activities to do In Colorado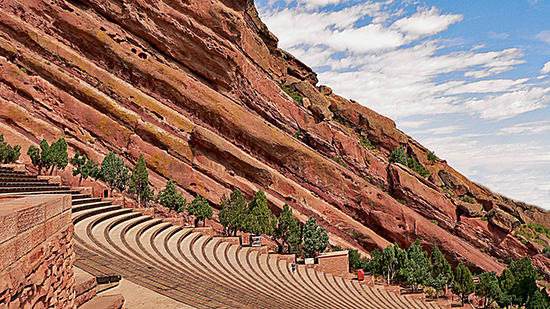 Are you Broke?
Bored? Cold? Need something to do and can't think of anything but sit on the couch and watch Netflix or Youtube? Don't you worry! Here are eight fun free things to do around Denver, Colorado!
Need to workout but can't afford a membership? The famous open amphitheater is open all year long and free for people to come whenever to workout, take a hike or just to check out the views. As long as there isn't a show or event going on, it's all free for the public.
Colorado Sports Hall of Fame
Want some more insight on the Denver Broncos? Inside Sport Authority field (Mile High), you can learn more about some of the best athletes that played back in the day. The Sports Hall of Fame is usually open to the public from Thursday to Sunday. If you do want to tour the entire stadium, Adults will cost $20 and children and seniors $15.
Drive to Lookout Mountain
  Some music, a few friends, and a sunset will do you some good  when driving up Looking Mountain. The beautiful drive up with views from Golden all the way to Denver will have you speechless.
           16th Street Mall in Denver and Pearl Street in Boulder are two of the most popular outside malls. Activities include playing chess, chillin' in lounge chairs or just being entertained by people, like Robo Mike the Afro robot man down on 16th Street making people laugh all day long.
Get funky at First Friday
On the first Friday of every month there are numbers of different art walks around downtown Denver located on Santa Fe, RiNo and 40 west (Colfax and pierce). So get outside, take a walk downtown and enjoy the beauty of art.
Wanna get a mile high? At the Denver Capitol the 13th step on the stairs marks exactly 5,280 feet, one mile above sea level. So go on, get out there and go get high!
National Wildlife refuges
Colorado is home to seven National Wildlife Refuges that are free and open to everyone to come and admire wildlife. Each of Colorado's refuges is home to many animals, from bison and moose to hawks and bald eagles. From Alamosa and Arapaho National Wildlife Refuges to Browns Park National Wildlife Refuge and much more located all over Colorado.
Practice Anger Management Skills on I-70
      It's completely obvious that the Colorado traffic is just plain awful. Why not use it to simply train yourself to be a more patient, less angry kind of person when it comes to stupid out of state drivers.