Wendy's Purchases a Swedish Child for Advertising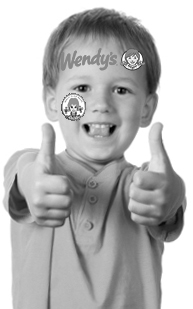 This week, Wendy's came under fire for their new ad campaign, the "Three For Four" due to the ad being tattooed onto a 17-year-old named Baconator Wendy's Man.
The company released a statement saying that back in 2002, they purchased a child from Sweden and raised him to be a walking advertisement. Baconanator Wendy's Man can only speak in advertisements but during a press conference featuring him, he screamed the word "badger" followed by Wendy's slogan "Fresh never frozen beef."
The crowd then watched as he was dragged off the stage and force fed a Dave Double after which he calmed down and addressed the crowd in German. with what was translated as. "S'Awesome Bacon Cheeseburger: it's a fresh beef burger with two slices of American cheese, three strips of Applewood smoked bacon, iceberg lettuce, sweet onions, pickles and S'Awesome sauce," which happens to be the exact wording found on the new Wendy's menu.
Then, once the press conference with Wendy's Man was over, Wendy's announced over tweet that Bacanotor Wendy's Man would be getting his own Twitter, @Imfreshneverfrozen. Bacanator's first tweet was "HELP ME, buy the all new BBQ burger!" A paypal was then linked with a goal of $300,000, and the tweet was followed by the line, "You have 7 days." Every day since, the account has been counting down the days.
So far, only four dollars have been contributed towards the goal and there are only three days left to participate.
After the press conference, we were given the opportunity to interview Baconator Wendy's Man. While we were asking him questions he only responded with ads for the new Three For Four meal, but he while he was talking he slid us two pieces of paper. The first was a coupon  for a regular Four For Four meal but the other had the words "Help me" written on the back. As we left, a Wendy's security guard found the note and burned it, telling us to forget the interaction happened but they let us keep the coupon. This was the last we have heard from  Bacanator Wendy's Man but we are hopeful he responds to the Direct messages we have sent to him on Twitter.
The public has taken a disliking to the fast food chain, some even going as far as across the street to their nearest McDonald's. Senior Max Ogden, who claims to eat at the restaurant every day for lunch gave one reporter a brief statement saying, "I fear no man but that thing, it scares me. I can no longer enjoy the amazing deal that is the Four for Four with out his image popping into my brain. Goodbye, Wendy's. I'm going to a better place now." He screamed this as ran across the street to the nearest Good Times, narrowly avoiding traffic.
After some research, we were able to track down the parents that sold Wendy's their child, but they refused to speak to us making the excuse "we can't hear you over the sound of all our money." The parents then sent us an email which only included a picture of them lying on a huge pile of money.