Post Malone Rocks Charts with Latest Release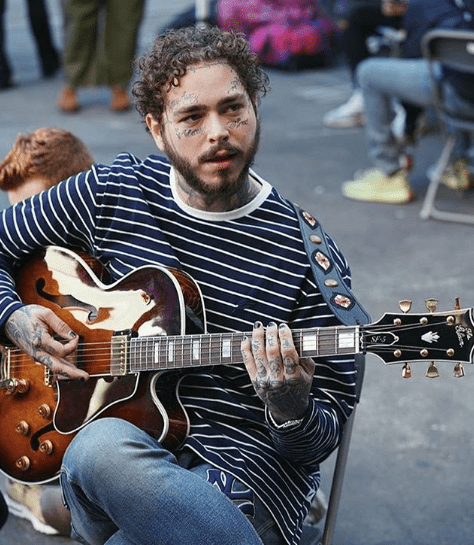 Over the past three years, Austin Post, otherwise known as Post Malone, has been on a meteoric uprise, setting his name in stone as one of today's most prolific musicians.
Flying under the radar with 2016's Stony and 2018's Beerbongs & Bentlys, Post has been, to say the least, proclaimed as much as any musical artist today. Since around December of last year, Post has been hyping up his newest release, Hollywood's Bleeding. Set for a Sept. 6 release, many fans were clamoring for this newest album from the 24-year-old Syracuse native, but he pulled a goof on the public, releasing the album on Sept. 5, 10:00pm MST. 
Due to the fact that this album has 17 tracks and a run time of 51 minutes, it would be very hard to review every track on the album. The singles that have come off this project have been massive to say the least. From last year's December hit, "Wow," to the massively successful "Sunflower," featuring Swae Lee, both have proved that fans were right to be excited about his newest project. 
Hollywood's Bleeding opens with the title track, a dark, atmospheric look on how Hollywood has changed his life. Post goes into his outlook on how Hollywood is filled with vampires and an underlying darkness that took him over through the early stages of his career. With the line, "Dyin' in our sleep, we're living out a dream, we only make it out alone," Post shows a massive maturity growth from glorifying his fame and success, to expressing the effect that this lifestyle has had on him.  
The massive standout, is "Take What You Want," featuring Black Sabbath's Ozzy Osbourne and Travis Scott. The song starts with a very ominous and echoey hoon and chorus, sung by Ozzy, incorporating both Black Sabbath-type production with a modern trap beat beneath that lead into the first verse extremely well. The song delves deep into Post's past relationships, and how all the girls would just wait for his heart to break and take everything they wanted from him, therefore leaving. Between the final verse and ending chorus, with a still present trap rap beat underneath, Ozzy continues on an electric guitar shred for about 30 seconds, leading into the final chorus, and in all honesty, it makes the song one hundred percent better. 
Therefore, Hollywood's Bleeding by Post Malone, is a great solo outing, while features carried the album. Hopefully, he can learn from his mistakes, cut down on the features, and write some better lyrics, he can come out banging with his fourth album.