Antonio Brown Ridiculed After a Series of Tantrums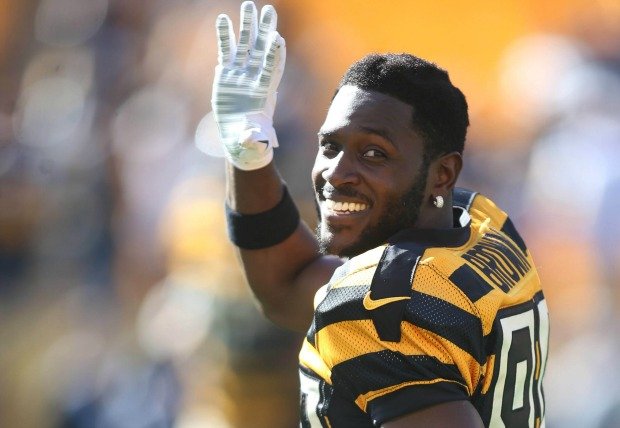 Dylan Brackett, Rookie Reporter
October 3, 2019
Over the course of the past three months, free agent wide receiver Antonio Brown has been upgraded from diva to full on atomic bomb. The nine year NFL veteran, has been, to say the least, one of the most explosive players in the league since his 2011 breakout year. He has been able to put up one of the most ferocious stat-lines in NFL history with six straight 100 + receptions, 1,100 + receiving yard seasons.
But ever since he got his four-year $68 million dollar extension, Brown has made a name for himself as one of the most outlandish and childish 30-year-olds in all of NFL history. During the 2019 season, Brown had one of his best statistical seasons of his career, with 104 receptions, 1,297 receiving yards and 15 touchdowns, but that would also result in him skipping out on the Steelers last game of the season, which would push them to the playoffs. 
During the off-season, Brown insisted that the team trade him, so the team did as he so childishly demanded: traded him to the Oakland Raiders for third and fifth round picks in the 2019 NFL draft. 
After being traded to the Raiders, Brown got immediately compensated with a $50 million contract with a $30 million signing bonus when he signed the contract. But, unfortunately, Brown was not able to keep his career in front of his ego. Starting with frostbitten toes due to incorrectly following cryotherapy rules, Brown started a slippery slope that wouldn't end with him as a Raider. 
Brown was so used to playing with a certain helmet all of his illustrious career, but when the NFL decided that his brand of helmet was unsafe for players to use, they made him change his helmet or he wouldn't be allowed to play. But Brown wouldn't take no for an answer.  He had to threaten retirement for over two weeks to wear a helmet that was deemed unsafe by a league known for hard, gut-wrenching hits. Soon enough, he picked a helmet from the brand Xenith. But soon after that, Raiders General Manager, Mike Mayock and Brown got into an altercation during training camp, which resulted in Brown threatening to punch Mayock in the face, and called him (Mayock) a racial slur. In early September, Brown released a private phone call between him and Raiders head coach Jon Gruden. Soon after that, Brown was released by the Raiders. All $30 million of his guaranteed money voided. 
On the same day he was released, Brown was signed to a $15 million, one-year contract by the New England Patriots. While he wasn't able to play in their first game because he was signed after the finalized roster was sent in, he was able to play in their second game, a 43-0 shutout of the Miami Dolphins, in which Brown had four receptions for 56 yards and one touchdown. 
Last Friday, Brown was released by the Patriots for allegedly sending threatening text messages to a woman who has accused him of sexual assault. All of the $10 million of guaranteed money has also been voided. 
Brown has since retired, unretired, re-enrolled in college and filed grievances to the NFL so he could get his "earned" money. Brown hasn't been signed since then.