Denver Broncos Bid a Farewell to Emmanuel Sanders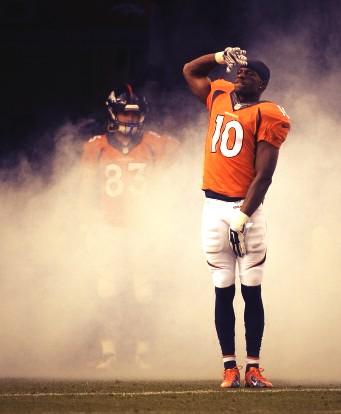 On Oct. 22, the Denver Broncos lost a key player.
General Manager, John Elway informed Broncos country that the San Francisco 49ers have traded for two-time Pro Bowler, Wide Receiver Emmanuel Sanders. The Broncos will receive a third-round and fourth-round 2020 draft pick. The 49ers will receive Sanders and a fifth-round 2020 draft pick. Broncos fans are saddened at the news that they have to say goodbye to a legend wide receiver.
Sanders was a Bronco from 2014-2019. In just six seasons, he created such an impact on Broncos fans. Every home game he would run out of the tunnel and do the "Mile High Salute," started by Broncos running back Phillip Lindsay and later popularized by Terrell Davis in the 1990s, to get the crowd ready for the game. Sanders created organizations like the "Emmanuel Sanders Foundations" to help provide financially disadvantaged children , held youth football camps in the summer, he even had his own TV show, "Broncos Huddle", with 9News sports anchor Rod Mackey. 
Sanders had one hell of a career in Denver with great stats to back it all up. He did everything from catching to throwing to rushing. He had 404 receptions and following that he had 28 receiving touchdowns. Being a wide receiver, these numbers are great. Not many wide receivers can do a running backs job, he had one touchdown and he ran for a total of 103 yards rushing. Joining the other outstanding stats he even did some passing, he was one-for-one passing and that pass was a completion for a touchdown from 28 yards out. Wrapping it all up Sanders gets to walk out of Denver with a Superbowl ring. 
In my opinion, I believe that the stats Emmanuel Sanders had in Denver were worth more than a couple draft picks in the third and fourth round. Yeah, he had a bad ankle, but he still has so much potential and game left. 
"He did a nice job for us. Emmanuel had a lot of catches and played hard. He was a competitive guy. He did a good job while he was here. We thought it was the best move again for us as well as for Emmanuel," said Elway to Aric DiLalla, the lead writer for the Broncos website. On both sides of the argument, Elway and Sanders seem happy with the trade. Hopefully John Elway's plan for the Broncos will help them become more successful. Also hoping that Sanders will have his best season yet, playing with an undefeated team. 
Sanders' first game as a 49er went exactly as he hoped. He got the first touchdown of the game with a couple of yard receptions into the end-zone. Being his first touchdown as a 49er, he was excited. "I will never forget going out of the tunnel with these guys, everybody laughing and smiling. I was like, this is football, this is fun. I'm blessed to be here," said Sanders to Darin Gantt, writer for NBC sports. He is happy and ready to be on a winning team again- time for a 49er Superbowl win.
Speaking for all Broncos fans, we will miss you, Sanders! Best of luck to you in San Francisco. Go win games and go win a Superbowl. Everyone is rooting for you.