Marilyn Manson Makes an Appearance at the Fillmore Auditorium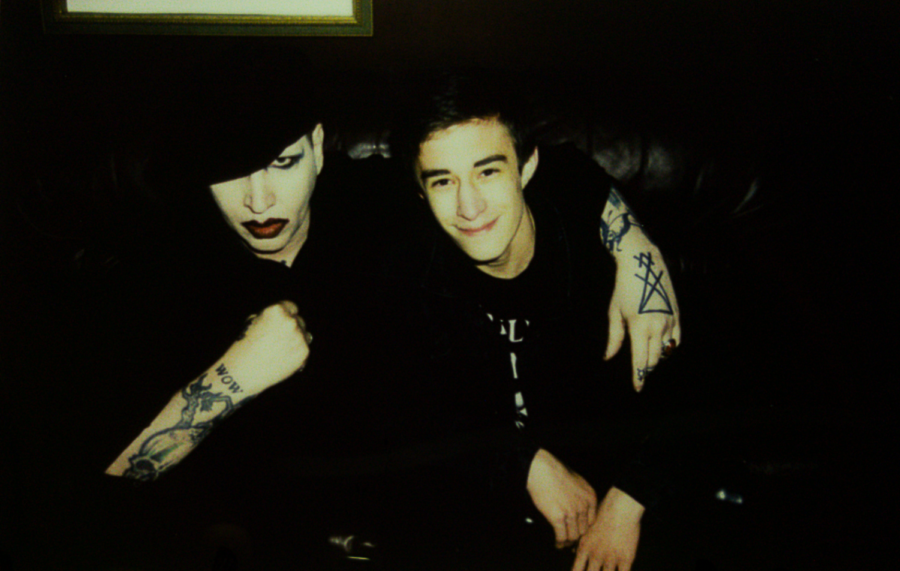 As a fan of Brian Warner (formally known as Marilyn Manson), this has been a once in a lifetime experience.
Over the past few decades, Warner has been misunderstood and blamed several times for tragedies and events such as the Columbine shooting on April 20,1999. But of course, not everything you see or read on the internet is entirely true. 
The entire experience began on Oct. 28, 2019 at 3:00 p.m. at the Fillmore Auditorium. My friend Andy and I were two of the first people in line outside for the meet and greet. Little to our knowledge though, we would be waiting outside in the numbing cold until 5:40 P.M. I was very vulnerable at that moment in time wearing only a slim denim jacket with a t-shirt underneath.
After nearly passing out from turning into a frozen block of ice, we were finally escorted inside the Fillmore. After slowly walking up to a room in one of the balconies, the man himself was waiting for our arrival, sitting on a leather couch with a photographer in front of him with a Polaroid camera. 
After the individual in front of us had their rotation talking to Manson, it was finally time. I gathered up my courage and walked over and sat right next to him. I went for a handshake and instead Warner gave me one of the biggest hugs ever. Time stood still as many memories began to flood my mind with some positive and some negative. This person helped me so much in my life and now I'm meeting him face to face in the flesh.
He asked how I was doing and I responded with, "mostly freezing." He chuckled and commented, "I really like your pants." With that in mind, he put his arm around my shoulder as the photographer took a Polaroid. The picture was then handed to Warner as he slowly waved it back and forth while we mostly talked about personal things in my life that I finally gathered the strength to talk about. He told me that the world can be full of hate and darkness, but I can only turn my darkness into something brighter. After that he asked for my name. I responded with "Alex" while he autographed the Polaroid.
 After one last emotional hug I walked out of the room to the stage floor at the guard gate, right in the middle between me and the microphone stand. To me, this was the best spot I could ever ask for at a concert. The opening band, Deadly Apples, put on a really great performance with the singer full of emotion and energy flowing steadily between him and the crowd. 
During intermission, the drummer and singer went by the guard rails to talk to and fist bump the people in front. I talked to the drummer and singer thanking them for a great performance, and they were thrilled for the positive feedback. It was surreal to me to talk to these performers like they were one of my best friends.
Then about 20 minutes later, a black curtain dropped revealing Manson himself starting with the song "Irresponsible Hate Anthem." Warner has great knowledge to hype an audience up. In between two certain songs, Warner hopped up to the guard rails and my friend and I got to hold him upright as he sang out into the crowd. This was a surreal experience for me, as Warner has helped me throughout my life forming how I perceive my life and to try and keep my chin up. The lyrics especially in the song, "The Beautiful People" explain how even though society can constantly be judgmental about you even though they have never spent the time to get to know you personally. Overall, this was an experience I will never forget.