Who the Heck is Chris Cheevers? And What Does His Quote Mean?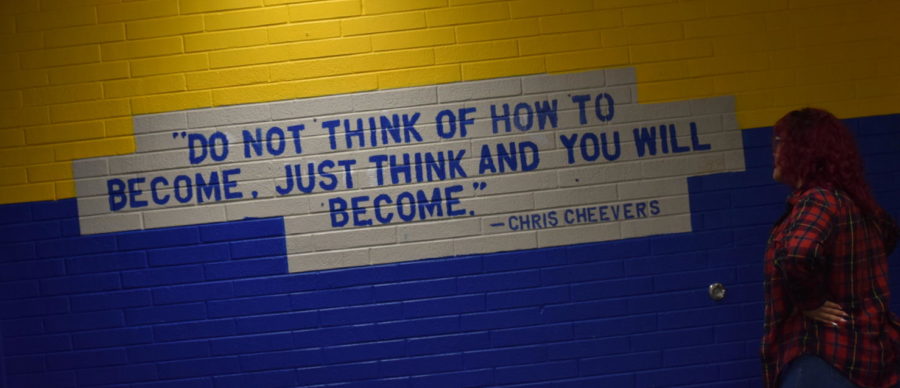 Izzy Claussen and Clara Anderson, Rookie Reporters
December 10, 2019
As you walked down the stairs by the cafeteria on your first day of freshman year at Wheat Ridge High School, you couldn't miss the quote at the end of the stairs: "Do not think of how to become, just think and you will become – Chris Cheevers."
Everyone's first thought on seeing it is, "What does that mean and why is it there and who the heck is Chris Cheevers?"  
Well, so does everyone else who has seen this quote and read it, over and over again, each and every day, rushing to class.  
First, as we had to research this quote, we had to figure out who Chris Cheevers is. We first had to find him on Facebook and we contacted him, but he didn't get back to us for a couple of days. We then asked around and found out that he graduated from the Jeffco Open School in 2006 and only went to Wheat Ridge High School for two of his high school years. While at Wheat Ridge, he was in STEM and was an active theater student.
Next, we went around the school asking every teacher that we thought could help us with this investigation, and many had no idea how this mysterious quote got there. Every teacher was very interested and also wanted to know how it actually got there. We confirmed several rumors from two teachers; social studies teacher Lance Austin has been at Wheat Ridge since the quote was painted, and another teacher who had heard about the story was English teacher Doug Granberry. They both conveyed that Cheevers snuck down during a play and wrote it up there, and the administration decided to keep it. 
"It didn't offend anyone," says Austin. 
But social studies teacher Arik Heim refuted this claim and said the principal at the time let them do it during class one day because administration was looking to fill the wall with something. They liked Cheevers' quote and decided it was fitting. 
As we researched more and finally got a response from Cheevers, we found out he is such a kind person. We didn't think he was going to pull through in giving us the information about him and the quote, but he did more than that. He showed us the real story of him, the quote, and his high school experience. He felt misunderstood throughout high school, and, if more people knew the story, they would feel how special that quote really is. 
After interviewing Cheevers himself through Facebook, we found out that the rumors were not true. The real story is that, at the time, principal Pat Harrison was having a schoolwide "Original Quote Competition." Cheevers decided to enter the contest with his quote. 
"I submitted my quote and didn't hear anything for while, and then one morning when I came into school, a friend told me, 'Someone wrote something in the annex with your name on it,' " Cheevers explained. After he found out that it was his quote, Cheevers felt relieved that no one was playing a prank on him, and he was proud that his quote resonated with someone. Cheevers wanted people to see and remember his quote and to really understand what it meant.
Therefore, Heim gave the most accurate story about the quote. He had explained that Cheevers' quote — "Do not think of how to become, just think and you will become" — was put on the wall because administration liked it and decided to paint it up there. Although we don't know how the other rumors got started, it's a very interesting story related to Wheat Ridge High School. But, the myth doesn't even begin to explain the powerful meaning behind Cheevers' original quote, and how he got the inspiration for the words. 
According to Cheevers, "I thought of the quote one night as I was going through some difficult times. Trying to figure out who I was and how I fit in with everything around me." 
The quote is usually passed by and not even thought about. To many students and even teachers, it doesn't mean much. For example, senior Leyla Gomez stated,  "This quote is stupid and means nothing." 
Others, however, respect and truly understand and connect to the quote. Julian Claussen, a 2019 graduate of Wheat Ridge High School stated, "This quote was one of the reasons I transferred from Golden to Wheat Ridge High School. I saw it on my first day touring the school."  
Cheevers also feels that this quote explains his life, and everything people need to learn and go through. "I finally got so fed up. I told myself I should stop trying to think what I should be and just think and let the rest come naturally," he said.  Cheevers believes that everyone, especially high school students, should persevere through experiences to figure out who they are and where they fit in. This is what the quote is trying to tell you. 
In fact, there are many students at Wheat Ridge High School, right now, who feel the way Cheevers did. Right? And, they want to make their voices heard. They have something to say! So, we – the reporters of this story — decided to go to administration and ask assistant principal Pat Rock, to sponsor another "Original Quote Competition." After all, even though STEM students put quotes up all the time, we want to create an opportunity for more voices to be heard and from students who may feel overlooked at Wheat Ridge High School. Rock said the administration would consider it
Hopefully,  this competition will become a new tradition at Wheat Ridge High School. After all, throughout Jefferson County, the only schools that have a quote competition for all their students are alternative schools like the Montessori schools and recently the Jeffco Open School. It would be great to change that and give more students a chance to leave their personal mark on their school and to express their thoughts, experiences, and Farmer's wisdom, just like Cheevers had the chance to do.  A simple quote's impact on just one student — and even more — is important.