St. Patrick's Day Unites Communities Across the Globe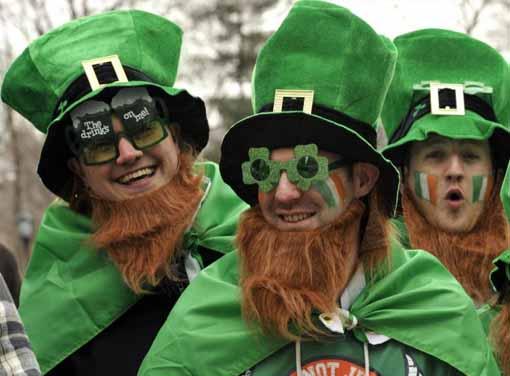 Ever wonder why St. Patrick's Day is a holiday?
Well, on St. Patrick's Day, which falls during the Christian season of Lent, Irish families would traditionally attend church in the morning and celebrate in the afternoon. For Christians , Lent is the day that they give up something like candy, alcohol, and other until Easter. For the Irish, people would dance, drink, and feast on the traditional meal of Irish bacon and cabbage. Irish bacon is basically from the back of a pig. Sounds really good right? Another good question would be who is St. Patrick? 
It is believed that Saint Patrick lived during the fifth century, and is  the patron saint of Ireland and its national apostle. Born in Roman Britain, he was kidnapped and brought to Ireland as a slave at the age of 16. He later escaped, but returned to Ireland and was credited with bringing Christianity to its people. His life morphed into mythology after he passed away which intrigued the Irish culture. The most well-known mythology is that he explained the Holy Trinity (Father, Son, and Holy Spirit) by using the threeleaf native Irish clover, the shamrock.
 People in Ireland have been observing the Roman Catholic feast day of St. Patrick on March 17. The first St. Patrick's Day actually took place in the United States, not in Ireland. On March 17, 1762, Irish soldiers that served in the English military marched through New York City. It was a way to show respect to all the irash troops fighting alongside the U.S. Along with their music, the parade helped the soldiers reconnect with their Irish roots, as well as with fellow Irishmen serving in the English army. Over the next 35 years, Irish patriotism among American immigrants flourished.
Annual parades featuring bagpipes, which actually first became popular in the Scottish and British armies, and drums. In 1848, several New York Irish Aid societies decided to unite their parades to form one official New York City St. Patrick's Day Parade. Today, that parade is the world's oldest civilian parade and the largest in the United States, with over 150,000 participants. Each year, nearly 3 million people line the 1.5-mile parade route to watch the procession, which takes more than five hours. Boston, Chicago, Philadelphia and Savannah also celebrate the day with parades involving between 10,000 and 20,000 participants each.
 St. Patricks day is a pretty cool holiday that we celebrate. It shows how much of a community we are by coming together to celebrate the Irish culture and religion, plus cool foods and drinks inspired by St. Patrick's day comes out like the Shamrock shake from Mcdonalds. Happy St. Patrick's day!!!