Your Questions About This School Year Answered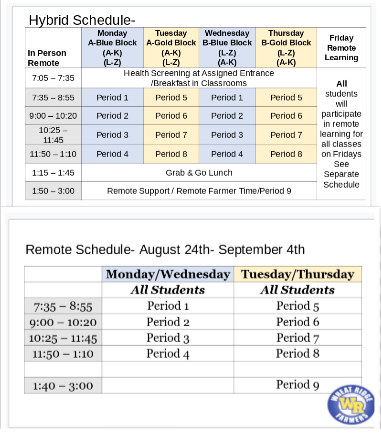 So, it's the start of a new year. You've just gotten your schedule for a year that's sure to be in history books. You're looking through, seeing who you have for a teacher, but then something strikes you: how will this year even work?
All of us students probably have numerous questions when it comes to this year, so hopefully this will clear some up for you.
First of all, you may be a bit lost looking through your schedule : why do I have multiple 8th periods? Well, according English teacher Kay Landon, this is the way that asynchronous classes are labeled. These types of classes are classes in which work is done separately, specifically when speaking of remote learners. 
One of the biggest questions everyone has for any school year, let alone one as odd as this one, is what's the bell schedule like? It's different depending on whether you are a hybrid or remote learner. For remote learners, classes are split into two groups, 1-4 happening during Monday and Wednesday, with 5-8 being during Tuesday and Thursday. Fridays will be a full day of classes. 
For hybrid learners, the schedule is quite different. As you probably know, hybrid learners are split into groups, so classes are split amongst the days. All students, hybrid or remote, will have a remote Friday with all classes. All of this information is available to you in an email that everyone should have received. The photo of the schedules will be attached to this story.
Hybrid learners have quite the curve when it comes to school this year, so here's at least a little clarification. Groups for classes are made based on your last name, similar to how PSAT groups are made. Bandanas will not be allowed as a mask substitute, only a mask will do. There are also a number of new teachers, so maybe you'll meet someone new this year.
Hopefully this has helped clear up some of the confusion that people are definitely having. This is sure to be a complicated year, but why make added stress of understanding schedules. Here's to an eventful and exciting school year.