NBA Takes a Stand Against Racism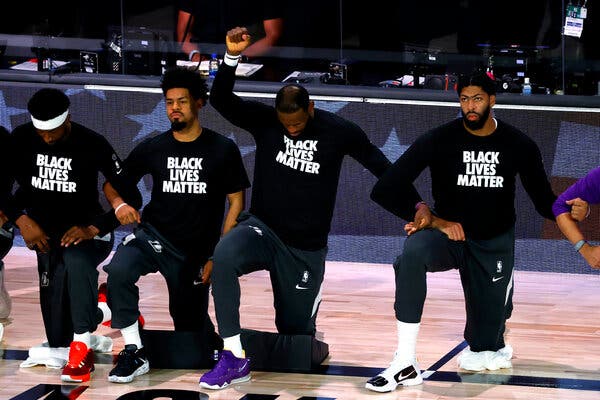 Wednesday, Aug .26, the NBA (National Basketball Association) announced the postponement of the three playoff games that were supposed to take place, in the Bubble, in Florida.
The Milwaukee Bucks started this by not taking the court for their game five against the Orlando Magic. These protests were sparked from the shooting of an unarmed black man and father of three, Jacob Blake, in Kenosha, Wisconsin, on Sunday, Aug 23.
After the Bucks announced that they were not going to take the court, the rest of the teams who were supposed to play that evening also made statements saying that they will not be taking the court. The Los Angeles Lakers, Portland Trail Blazers, Oklahoma City Thunder, and the Houston Rockets all will have their games postponed to a later date. In addition to the NBA, six WNBA (Women's National Basketball League) teams, the Washington Mystics, Atlanta Dream, Los Angeles Sparks, Minnesota Lynx, Connecticut Sun, and the Phoenix Mercury, all postponed their games as well. Also in MLB (Major League Baseball)  the Cincinnati Reds vs. Milwaukee Brewers game has been postponed. 
The NBA in the bubble has been a huge advocate for the Black Lives Matter movement since the killings of George Floyd, Breonna Taylor, Elija Mcclain, and many more Black people at the hands of law enforcement. They have the words "Black Lives Matter" painted across the courts that the players play on, a majority of players have a phrase written on the back of their jerseys in support of the BLM movement, players and coaches have shirts that read "Black Lives Matter", and a majority of every player and coaches on every team kneels during the singing of the National Anthem. 
The Los Angeles Clippers head coach, Doc Rivers, released a statement to the press stating that "we keep loving this country and this country doesn't love us back." 
The players, the coaches, and the whole NBA organization were finally set over the edge with these killings and they are taking a stand against racial injustice and systemic racism. NBA players urge fans to take a stand to support the Black Lives Matter movement by signing petitions and donating to causes that benefit this movement.