Raising Cane's Chicken Fingers – The Place That Fills You Up With Love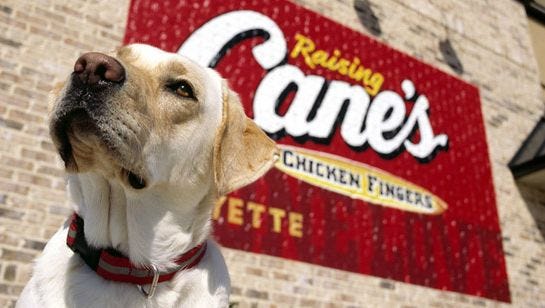 ¨
Raising Cane's has ONE LOVE-quality chicken finger meals and we serve them better than anyone else,¨ is the quote that Raising Cane's uses on their website as their motto.
The phrase based off of one of Bob Marley's songs, One Love, plays a special role in how the owner of Cane's Chicken wanted the place to be for the community and how the food was served. Recently opening in late August. The new store on 38th and Wadsworth is now part of Raising Cane´s, being an addition to the 11 stores they currently have in Colorado.
Cane's founder, Tom Howard, was told  that his business plan for opening a restaurant for chicken fingers would be a disaster, Raising Cane's Chicken Fingers is now the fastest growing restaurant chain in America according to Business Insider. After being told his plan would not work, Howard got a job as a boilermaker to fund his idea himself, which eventually led  him to fishing commercially in Alaska for salmon, and when he returned he had raised enough money to get a Small Business Administration loan to make the first Cane's Chicken Fingers, fixing up an old shop until it was able to open in Baton Rouge, LA. When it did, business was booming so much they couldn't close until 3 a.m. Howard had  turned his dreams into a reality. A nice interesting fun fact about Raising Canes is that it was almost named Sockeye's Chicken Fingers before an old friend of Howard convinced him to name it after his first dog.
The menu at Cane´s is a collection of pure chicken tenders, their meals include combos: The Box Combo,  The 3 Finger Combo, The Caniac Combo, The Sandwich Combo, and The Kids Combo. All combos offer chicken, Texas toast, crinkle-cut fries, cane sauce, and your choice of lemonade or sweet and unsweetened tea. The sandwich combo, however, is different, it comes with a Kaiser roll and lettuce on the sandwich. The place has no desserts to satisfy your sweet tooth, but the sweet tea and lemonade definitely fill up the void for the sweetness menu. 
A few weeks ago, I decided to venture to the chicken restaurant myself, wondering if the chicken really tasted as good as everyone said it was. I was not let down. I tried the box combo first and the chicken was delicious when dipped into the Cane's sauce and the Texas toast was just rightly toasted and buttery. 
The coleslaw, however, was low on my list since I didn't have much of an appetite or liking for it. The taste for me was too vinegary and doesn't agree with my taste buds. On my second trip, I went to try the three finger combo, where I then found out I can replace the coleslaw with more toast instead for free, so I did. The rest of the choices were overall the same except for the sandwich combo. Saving it for last, I decided to go, and it was good, it tasted delicious with the signature sauce, but I would maybe settle on getting the box combo or a different one next time. 
Cane's Chicken, from my trips there, definitely lived up to its hype from customers. It's easily explainable why they're the fastest growing chain currently, from the long lines I experienced in the drive through, to seeing they have two separate kitchens for the drive through people and people eating in. They strive for customer satisfaction and ensure that they're doing their best to deliver your food fast and have it cooked well.