A Historical Wildfire Year In Colorado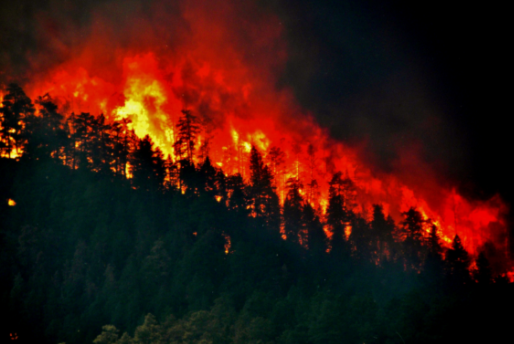 In all the chaos of 2020, something that has almost been forgotten  is the wildfires burning up land all over the state. The Colorado fires of 2020  will go down in history.  
As of Oct. 23, over 665 hundred thousand acres of land have been burned. 
Three of Colorado's biggest fires ever occurred this year with Cameron Peak, East Troublesome, and Pine Gulch all ranking in the top five  in total acres burned. 
Another strange thing is that this year the bulk of our fire problems have occurred after August, when on average July and August are usually  the worst months for fires. Experts believe that global warming could explain why the fires are so late, with Colorado having a historically hot October. 
  The Cameron Peak fire has become the largest in Colorado history. It has burned over 200 thousand acres in Larimer County. The fire was first discovered almost three months ago on Aug. 13 and its cause is still unknown. It has taken till now to get it up to 92% contained. This fire managed to destroy over 440 buildings in just over two months. 
  The East Troublesome fire may turn out to be the most destructive fire in Colorado history. The fire is believed to be man-made and started on Oct. 13. At first, it seemed to be more of a nuisance and not a problem, but after a sudden burst, the fire tripled in size and managed to jump Highway 34, putting thousands of homes in danger. As of Nov. 1, over 350 homes have been destroyed.  With the fire only 37% controlled, firefighters are very thankful that the snowy season is on its way to help control this fire. A large reason it's so destructive is because of the location, between the towns of Grand