PhotoJournalism Piece: Trip to Universal Studios Florida in March 2021
As the world reached its one-year anniversary of being in a pandemic, my family and I decided to take a trip away from the cold and snow of Colorado and go to the sun and warmth of Florida. With my senior year coming to a close, and many changes beginning to happen, my family decided to do one big family trip before I leave for college. And even though we still had to be socially distanced and wear masks at all times, the trip was amazing, but also different in its own way. Overall it was a great trip, full of many pictures taken. So, here is how my trip was, going to Universal Studios during March 2021, almost a full year after the pandemic began.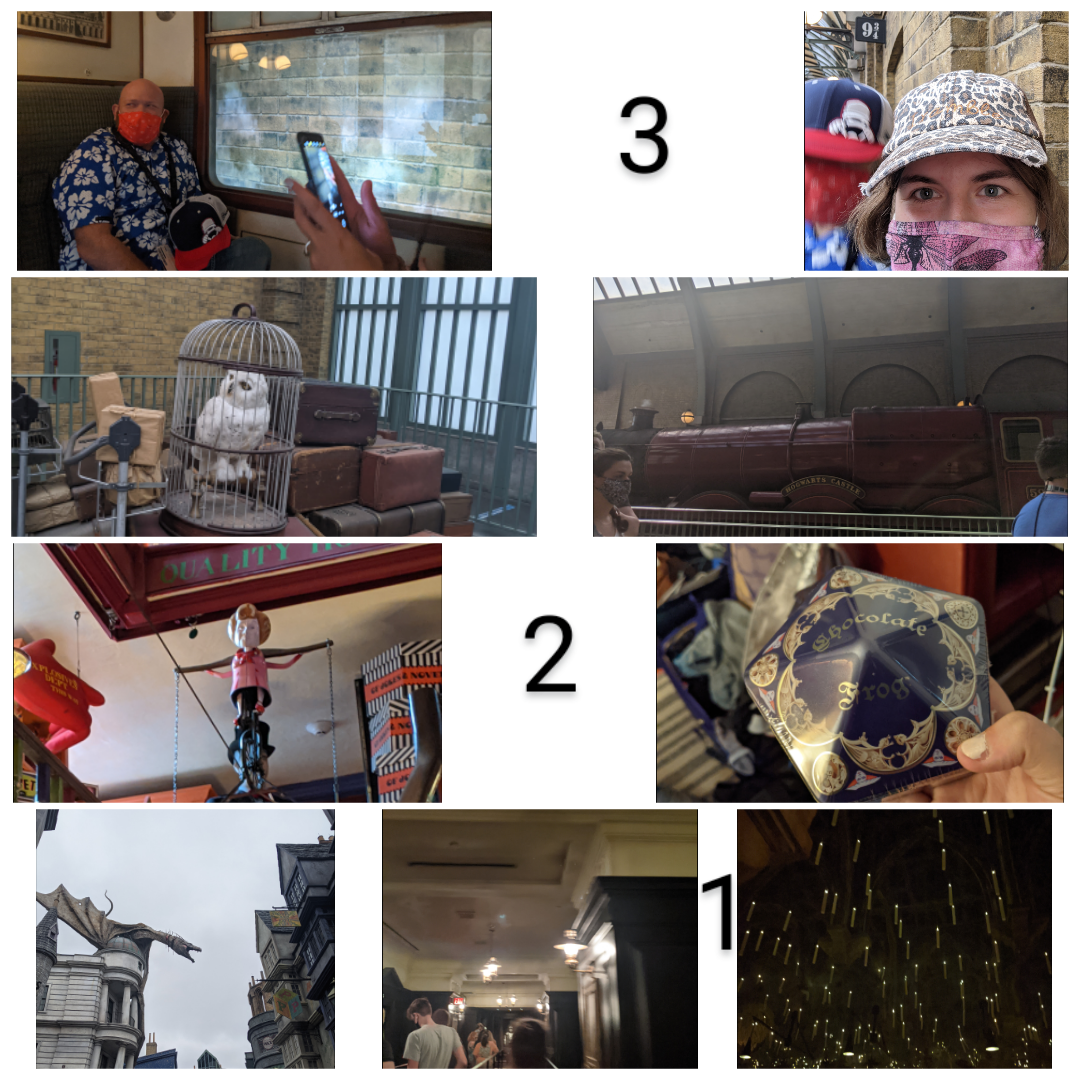 Now, I am a huge Harry Potter fan, as is most of my family. So, the first day when we had gone from cold snowy Colorado to warm, kind of windy, Florida, we had traveled to beautiful Diagon Alley in Universal Studios. And thanks to the deal my parents had gotten for Fast Pass, we were able to finally enjoy riding the famous Gringotts Bank roller coaster ride, which was a lot of fun, and we ended up going on it at least once a day while we were there, which made me grow to make it my favorite the of the whole park.
We had also decided to do a bit of shopping in the stores offered in Diagon Alley, which was fun, but also frustrating as many other people had the same idea. In the end, while my Mom got many sweets of fudge, chocolate, and more, I had gotten myself a famous chocolate frog with five cards.
But, after spending the first part of the day in Diagon Alley, we took the Hogwarts Express to Hogsmeade and Hogwarts school, ready to become one with the magical part of the Harry Potter exhibits in the parks. The Kings Cross has so many iconic places, with showing train walls and a board full of train arrivals and departure, to even the famous disappearing wall between platforms 9 and 10.
My Dad, the fancy man in the mask, got annoyed with how many photos I was taking and decided to have a little fun with one of my selfies by photobombing one of them and being the star of the next picture on the Hogwarts Express itself.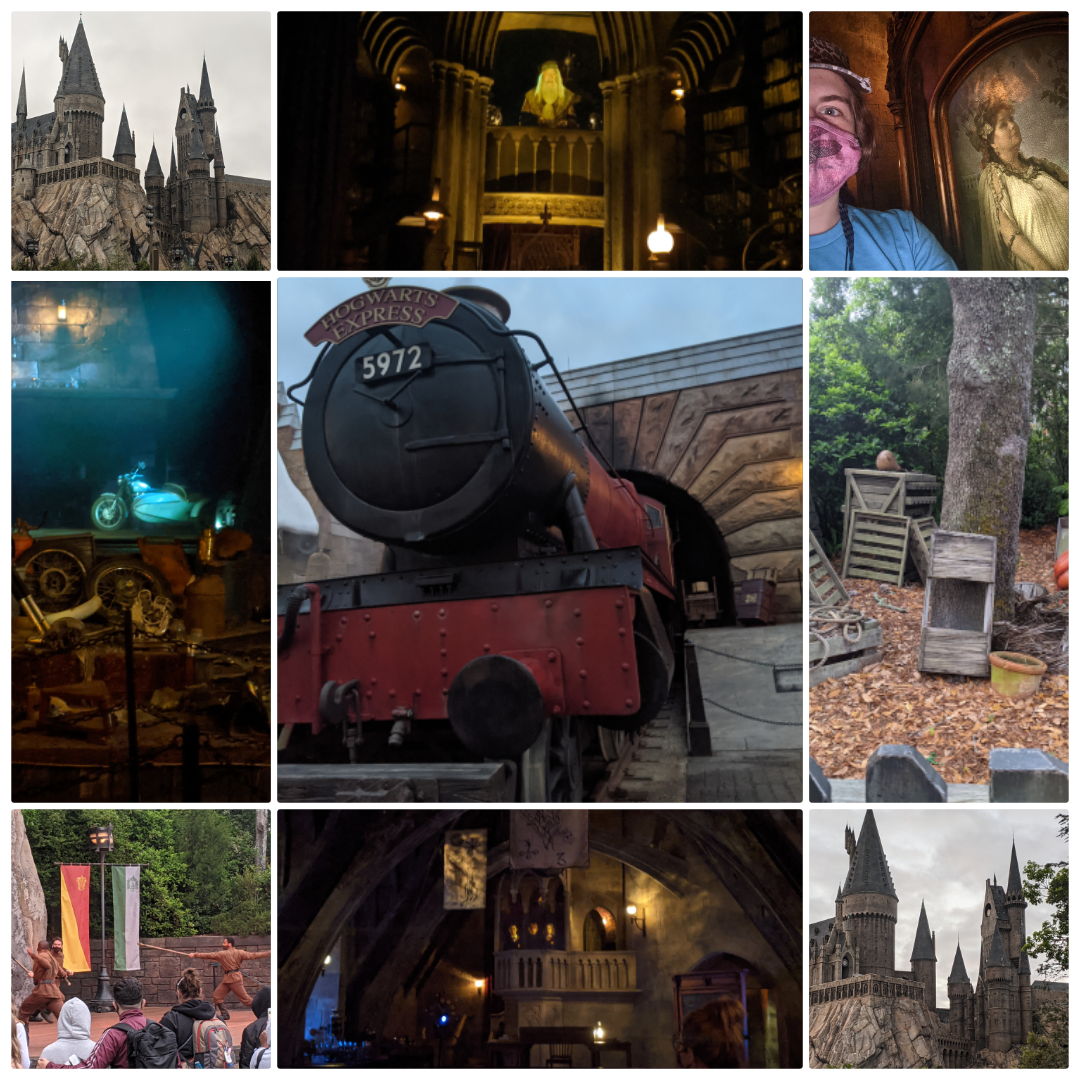 As we took the train out of Universal Studios, we entered Hogsmeade, which is located in Islands of Adventure. We spent the day exploring what Hogsmeade had to offer, and rode on the all-famous "Harry Potter and the Forbidden Journey," which is a very cool virtual ride that is inside the Hogwarts school. Along with that, the place was crowded with people who wanted to ride Hagrid's new ride, which came out in the summer of 2019 before it was  forced to shut down for the pandemic. The ride is so popular the lines are stretched out past the entrance and into the next part of Islands of Adventure. Along with the rides and treats offered, there was also much entertainment offered as well, which mostly revolves around iconic music moments in the Harry Potter films, with the Frog concerts, and even when the other schools perform when they arrive at Hogwarts for the Triwizard Tournament. Because Hagrid's ride was so busy, we could not wait in line, so we tried virtual passes, which are used to help reserve a time to ride, and could only get two out of five of my family members to go. So, we decided to try Hagrid's the next morning when it first opened.
While I did not get many pictures for it, my family and I woke up at six in the morning, which would be four in the morning in Colorado, to get to Hagrid's before it got busy. And despite our efforts, we still had to wait in line for a long time, and eventually got to ride it, and it was totally worth it. I won't say any spoilers, but just be prepared for much fast racing excitement through iconic mystical creatures of the Harry Potter world. And, that day I discovered the actions made to socially distance people in lines make the lines seem much longer than they actually are.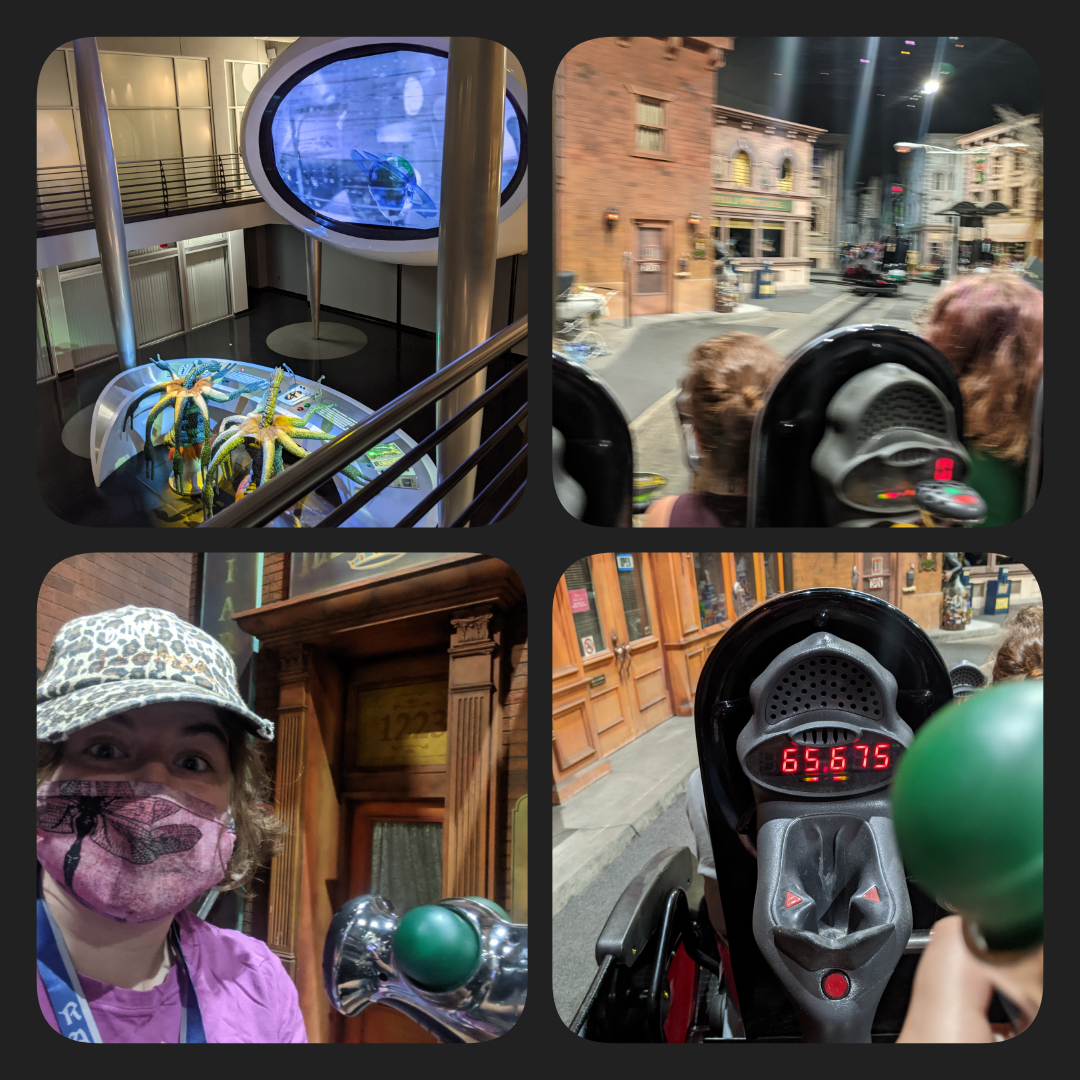 While we did spend most of our time exploring the Harry Potter world, we also explored other parts of the park, including the Men in Black ride, which is a nice shooting game. While it was fun in the beginning, we ended up getting stuck as the ride had malfunctioned. So, what did my family and I do during our wait for the ride to continue? Take pictures! And try and beat each other by still shooting the objects still available to us.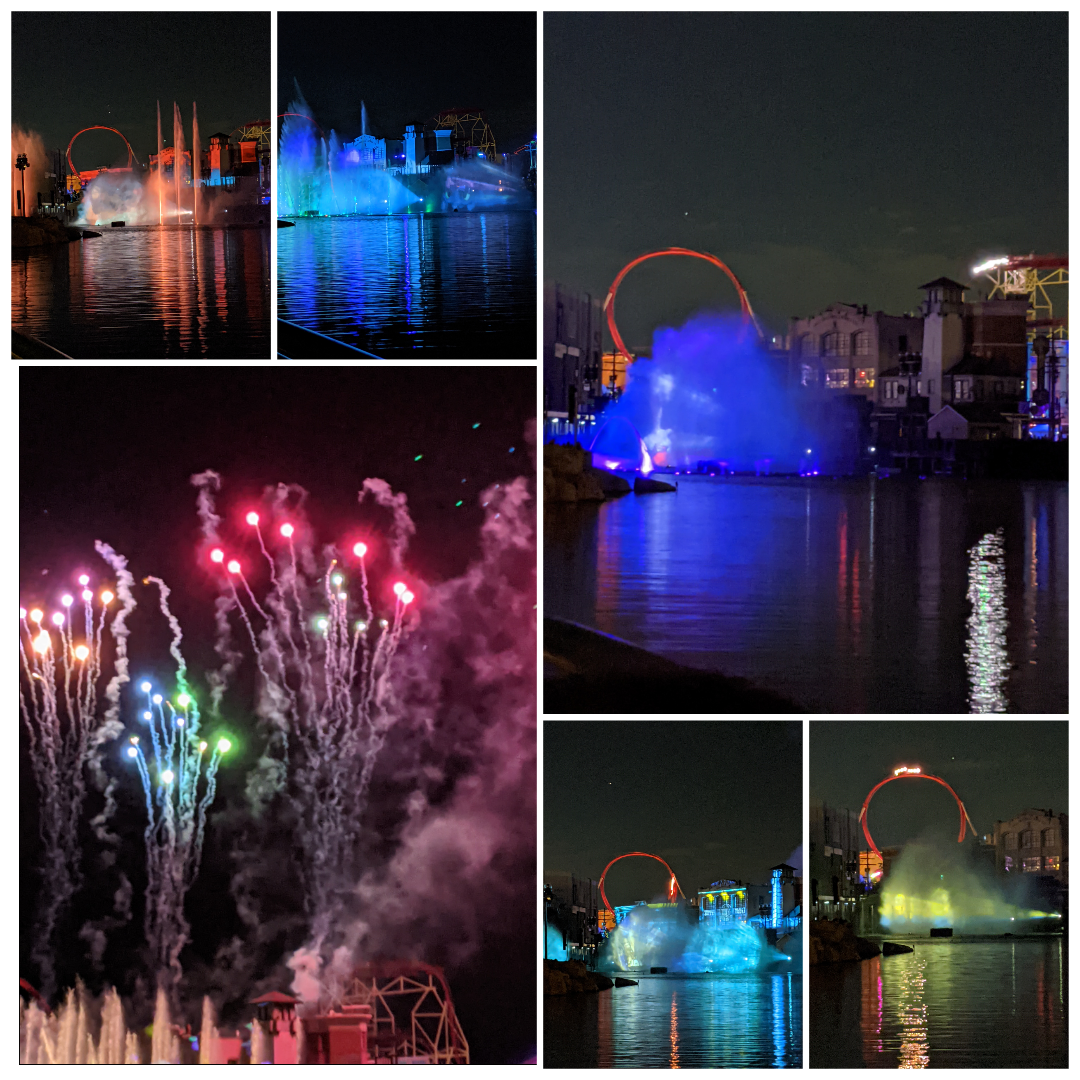 But, outside of the fun and special rides of Universal Studios, there was a special event going on in the park called "Mardi Gras," where worldwide food was being sold, and entertainment was held for the special event. In that event, there was a special firework and fountain display to represent Universal films through colors and lights. Some of these include; Minions, How to Train Your Dragon, Kung Fu Panda, Transformers, and more!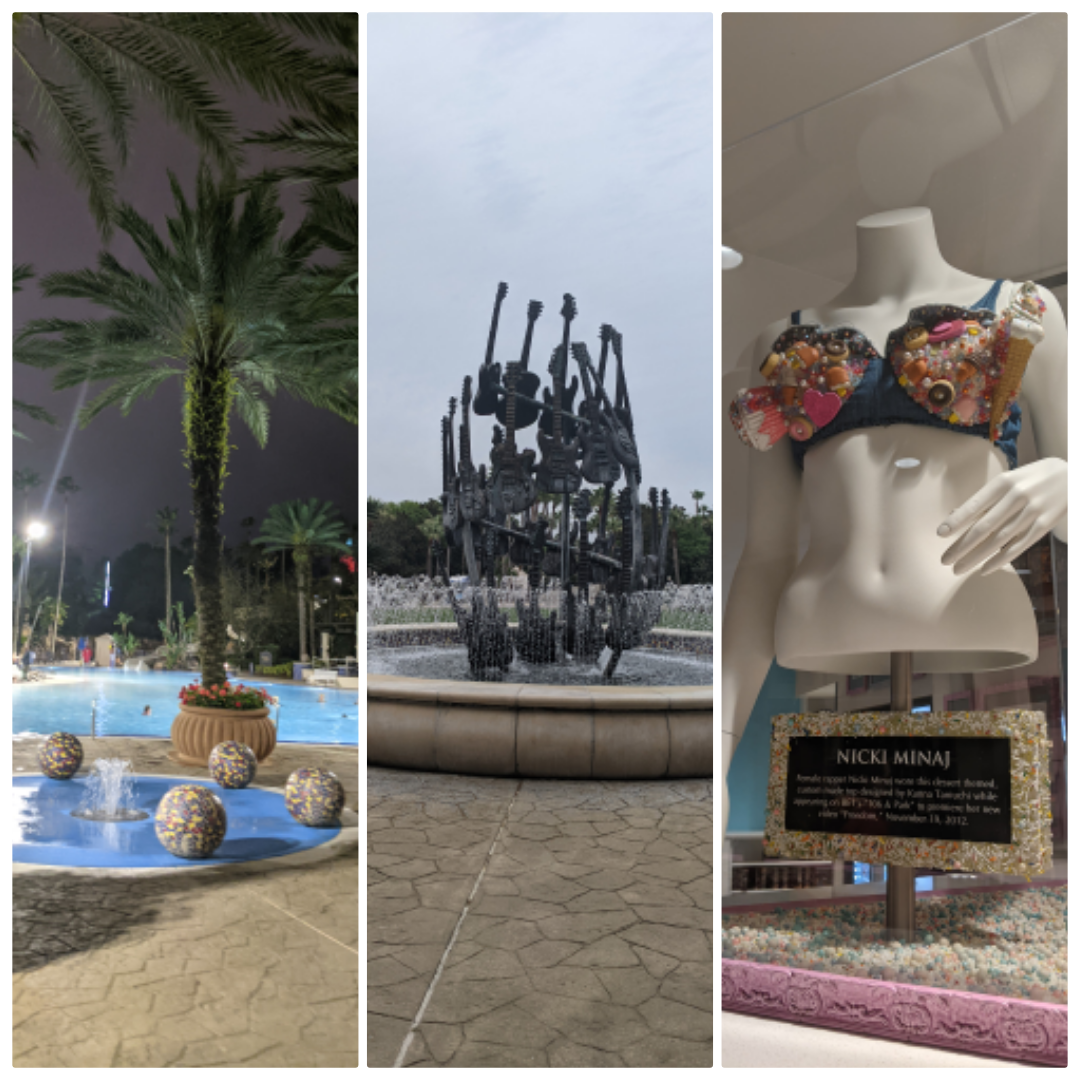 Outside of the parks, we spent our nights in the Hard Rock Hotel. The hotel was very comfortable, and we had gotten a very nice pool to swim in after our days in the park. In fact, the Hard Rock Hotel was one of the very few hotels that have a water taxi directly to CityWalk, which is used to get to Universal Studios and Islands of Adventure. Along with the water taxi and the pool, it also had many musical artifacts, including Nicki Minaj's special dessert-themed top, which was used to premiere her new video " Freedom" on November 19th, 2012.
Overall, the trip was a very special experience. And while the pandemic continues to make things difficult, with social distance and wearing masks, the park was still as entertaining as ever, and became a very special trip for my family and me. The trip had some very iconic and funny moments, and made me realize how much time was actually flying by, and how close I was to graduating, and becoming an adult. But, I am glad I took the trip, as it was one of the best trips to take before officially becoming an adult, and having to do bigger things, like taxes!