Farmer Alum, Olympic Athlete Annie Kunz Shares Her Story at the Farm
When Annie Kunz went to Wheat Ridge from 2008-2011 she dreamed of becoming an Olympian. This summer her dreams became a reality, when she won the USA Olympic trials, she scored a personal best in five of her events in the heptathlon. She qualified for the Olympics in Tokyo this summer and she placed sixth in the world.
Kunz was one of the most decorated high school athletes in the history of Colorado. Kunz played in two consecutive state soccer championships, while being selected the Colorado Gatorade Player of the year, twice. Kunz is a 10-time state medalist in track and field. She won four state track championships her senior year and became the fifth Wheat Ridge Student Athlete to win the Freddie Steinmark Award.
Kunz went on to compete in both soccer and track and field at Texas A&M. She was part of a final four soccer team and a track national championship. The Heptathlon (seven different track and field events) became her passion. Following her college career she started training at the Olympic Training Center in California with the dream of making the Olympics one day.
Kunz has so many accomplishments, and her journey started here at Wheat Ridge. When I got the time to sit down with her I asked, how did the Farm prepare her for so many accomplishments?
"The community, teachers, friends, and coaches that I was so lucky to have molded me into the person I am today. I was so fortunate to have amazing people instill values in me like resilience, hard work, sacrifice, and being a good teammate and person," Kunz said.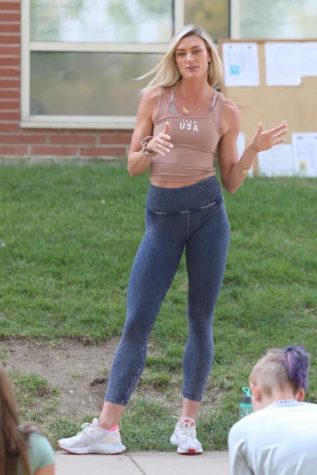 On Sept. 7, Kunz returned to Wheat Ridge and talked to current members of the girls soccer, cross country, and track teams to share her story. She shared her challenges during Covid and how to overcome adversity, and encouraged students to follow their passion, and work hard towards their goals.
"I'm so grateful for Wheat Ridge and the relationships that I built here that gave me the foundation to chase my dream of becoming an Olympian," Kunz said.
"I think it is really cool to see how she credits a lot of her success to Scott Chamberlin [cross country and track coach] and Dan Watkins [girls soccer coach] and how she took the time to talk to every single one of us individually," junior Sydney Hertel, a girls varsity soccer and cross country athlete, said.
Annie Kunz is a legacy at Wheat Ridge High School and an amazing role model for what you can be. Students will always look up to her.