Everything You Wanted To Know About Wheat Ridges GT Program
If you or your child are interested in attending Wheat Ridge High School but are unsure if our Gifted and Talented program is a good fit for your child, this article can help you decide if Wheat Ridge High School's GT program is a good fit for you or your family.
First off, what is GT? The Gifted and Talented Student Education program has been around since 1988, being founded on the Jacob K. Javits Gifted and Talented Students Education Act of 1988. GT is used as a way for students with Advanced Learning Plans to have a class dedicated to helping assist in improving their learning skills, furthering their interests, and helping with their overall mental wellbeing. While also helping to support students in any class they have or even in their personal lives.
Here at Wheat Ridge, the GT program is run by Elliot Holm and Julie Bolding with a wide variety of students, all with different interests and backgrounds. This program aims to help students both academically and creatively through projects that encourage them to explore their interests and hobbies. The Haystack interviewed one student, Beckett (Luther) Kozhevnikov on Jan. 14 a sophomore student who has been in the Wheat Ridge GT program for one year and a half, about how art and interests affect the program. Kozhevnikov told Haystack, "If a student is interested in art, or if that's their hobby, then you could count GT as an art class. The same goes for every other topic. Kids who like sports use GT as an opportunity to find out more about their sport and/or work on their technique. Kids who like psychology or medicine use the class to learn more about how the body/brain works, or how to help impaired people. GT is whatever the students want it to be."
An important quote to point out from this interview is when Kozhevnikov says, "GT is whatever the students want it to be."
No matter what your child is interested in whether it be art, sports, medicine, or any other interest, GT will have a very welcoming and encouraging group to share these interests within this program.
If you worry that this program may not help your child academically, the GT program is meant to help ALP students both with their workload from other classes and overall creativity. During the interviews, Kozhevnikov asked how this program helps both him and his fellow GT students academically. He responded, "During freshmen year, it helped me to focus more on myself instead of indulging in my workaholic behaviors. My work became a higher quality because my teachers taught me that having fun isn't a sin."
This shows how the teachers helping to lead this program can help to lessen the intense workload your student receives by encouraging them to find a healthy balance between academics and relaxation.
While Holm and Bolding help students academically, they still make time for students to help them with their confidence and to express themselves emotionally. Kozhevnikov said, "Mr. Holm, in particular, helped me to become more casual, and to allow myself to express my opinions. The GT community as a whole, though, taught me that I shouldn't restrict my own happiness for any reason. It actually helped me so much last year that I convinced a dear friend of mine to join, and he later told me that the GT program helped him to gain his trust in people back." He said that Wheat Ridge's GT program played a big role in his decision to enroll here.
If your student is prone to stress and you fear that this program may be too stress-inducing, there is a yearly retreat that the program takes for students to learn what will be expected of them. Earlier this school year the retreat was located at Mt. Evans in the mountains of Colorado. Kozhevnikov went on to say, "As a Sophomore in COVID, I've only been to one. That retreat served as a valuable lesson on what I need to do to improve myself. I got to witness multitudes of people show their most vulnerable selves to the rest of the Retreat attendees, resulting in some beautiful moments of humanity and empathy. I became closer to my friends while meeting some new ones, and it was amazing."
This shows how these retreats are beneficial to the students both mentally and also emotionally. This is shown with how Kozhevnikov described how some of these students in GT who attended this retreat, felt comfortable enough with the community that has formed within GT to be vulnerable around each other.
Another activity that goes on through GT during the school year is the GT information night. The purpose of this is to show to the students who may come to Wheat Ridge in the future, the types of projects the students make in person. An example of this is what Kozhevnikov explained what he was going to be presenting for that night, "My project for GT night is going to be documenting how getting into this new community is helping to heal past traumas. It's by far the biggest step I've taken towards bettering myself, and working on it with friends allows me to have a support system while doing it."
Both. Holm and Bolding have a lot of experience teaching GT. On Jan. 28, Holm said, "I've been teaching here for about 12 years, a few years ago I was asked to teach GT." 
During the interview, Holm had told The Haystack that some of his students wanted to learn how to be adults and how to live on the outside and in the real world. Holm told me about how he wasn't too sure how to form a lesson for that, he then explained how he found a book called Adulting by Kelly Williams Brown that he had found in a Barnes & Noble bookstore after accidentally knocking it over, "It's really funny, actually. So she swears like a sailor in it, and it kind of makes it really entertaining. So it's like how to be a functioning adult, but like, how to in a boring way. So I literally ran into the solution to my problem. So I took this book home and turned it into a curriculum; teaching life skills through Adulting. And I asked my kids every step of the way, is this good."
This shows just how the teachers leading the program feel about their students and how they change their lessons to fit the needs of their students in both what they want and need to learn. It also shows how this program helps to better its students in both their academics and for their future lives. We also think that it was incredible to hear how much these teachers are dedicated to helping teach these students. During our interview, Holm told me how he has to basically become the expert for what the students decide they want to learn, and if its something very difficult to teach he doesn't just make them choose something else, he goes out of his way to find experts in that subject matter to help out and be guest speakers for that class. Holm told The Haystack, "So I just had someone today who wants to do a budgeting project because she's moving out of her parent's house in March. And I'm bringing in an expert I know in the community who does budgeting with teenagers."
Another way that the GT teachers help create a community is by having each new student paint a canvas with whatever they want on it. Holm and Bolding want the students attending this program to feel as welcome and comfortable there as possible, as well as leave their mark on that class.
It should be important to note that GT doesn't have to just allow everyone in like most electives. The program usually has a wait-list and requires your student to be tested before they can apply for the program. Your student also must be in a high-level class or classes such as honors or advanced placement to be eligible to apply as well, remember this program's main initiative is to help assist students with high-level classes and the work given to them. 
Whether you plan to sign up for our GT program or not, you should know that the GT classroom is accepting to everyone and whether you are a registered student or not, you are free to hang out there with friends, as it is a safe and welcoming space for everyone in this school.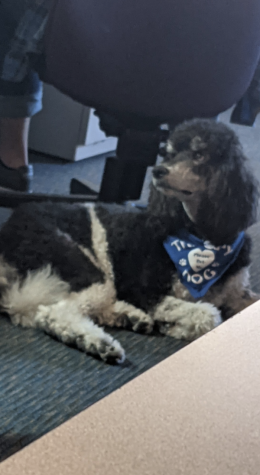 This is Bellini, she is a registered therapy dog for the GT program. She has been the therapy dog for the GT program since 2021-PRESENT