Valograms Show Love on the Farm!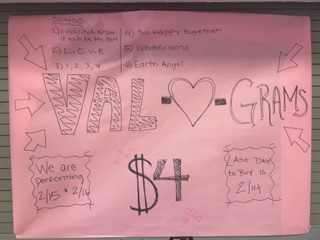 Next week, Farmers have the opportunity to support their choir by buying Valograms for friends, teachers, crushes, and significant others. It is a great way to shoot your shot without being too honest and open. When you buy one, the choir will come and serenade the recipient.
The Valograms will be delivered throughout the school day on Feb. 15 and 16.. They cost $4 for a song without candy and $5 to buy a song and candy. The last day to buy a Valogram is Feb. 14. Make sure to purchase one before then! The proceeds will be donated to the choir program to help them with future Valograms and choir concerts!
If you order a Valogram, this is what to expect when you buy a Valogram. The Wheat Ridge Chamber Choir will be performing six songs that you can choose from. The list includes, "L.O.V.E", "1 ,2 ,3, 4" , "I wanna know if you'll be my girl," just to name a few. 
The whole choir looks forward to performing the Valograms., "Our favorite part is performing the songs," members said. But they think it's stressful to do it alone with no accompaniment . They also wish choir director Ryan Plakorus were there to help, but he will be teaching his classes. 
Despite the struggles, these kids have a lot of fun doing the Valograms and admitted that it's one of their favorite parts of being in choir.
In conclusion, go and get that special someone, friend, or romantic partner a Valogram! It's a simple and affordable gesture that will let them know they are loved and appreciated. Plus, it's always fun to watch our amazing choir program perform.