What's Happening at Wheat Ridge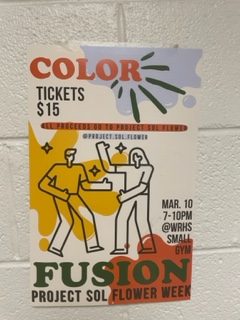 There Is a lot happening around the Farm in the month of March, the musical Singin' in the Rain and many fundraising events. 
The Wheat Ridge High School musical singing in the rain is taking place March 2-4  with the director Ryan Plakorus, who is also the school choir teacher. 
The Color Fusion Dance is taking place on March 10. Leading up to it is a week of fun spirit days! Some of these include dressing up as a famous person! Or soccer mom vs bbq dad.  These are fun events to get the school hyped up for this awesome dance! The dance is color fusion so wear the loudest most colorful neon! All the proceeds of the dance will be donated to Solflower. 
The dance is in partnership with the project Sol Flower which is an organization that strives to help fulfill bucket list items for young adults with cancer or other life-threatening diseases. It is important to support these spirit days and the dance to help these unfortunate souls reach their dreams. During the week of March 6 through March 10, there will be jars in each classroom to collect coins, a raffle with tickets on sale in the Barn (in the lobby), and Sol Flower t-shirts on sale. All profits from the fundraisers go to project Sol Flower.
Lastly, on the agenda, there will be a school-wide lip dub where everyone is invited to take part in the video. It will be a showcase of the school and students. There will be three songs to go through the school: Party Rock Anthem, Get Your Head in the Game, and Shake it off! This is a fun way to make our school more of a community and a fun way to be engaged.