Deaf Awareness Month is Happening on the Farm!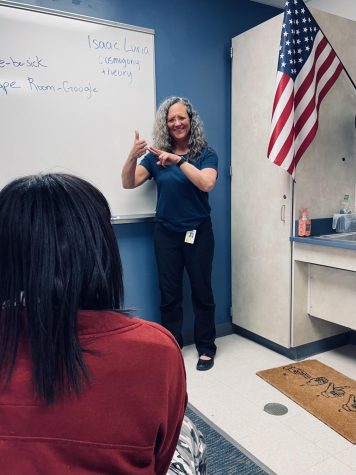 Here at the Farm 15 students who are deaf and hard of hearing, an additional 5 interpreters, and an awesome para make up Wheat Ridge's Deaf and Hard of Hearing Center-Based Program (DHH). In addition to classes,, we have a Sign Language Club for anyone that would like to learn sign language. This sign language club is run by two deaf and hard-of-hearing  students and one  American Sign Language interpreter.  You might know an ASL interpreter from here at school.
Did you know that 20% (1.5 billion people ) of world is deaf?  In the United States alone, there are about 50 million people who are deaf. Also did you know that not all deaf people know ASL (American Sign Language)? One out of 20 Americans are born deaf or have a level hearing loss.  
The History Of  Deaf Awareness Month
April is a month in which all deaf people are recognized, even though  National Deaf History month is not a federally recognized holiday.  
In this month especially, we focus on honoring the large contributions of our deaf individuals that have got us where we are today and to our deaf community in our country.  In addition we can know more about the deaf culture and how they work together. 
Being deaf doesn't  mean we can't do certain things just because… we can do all type of things. We can do this because in this modern world technology will keep evolving and coming out with new equipment.
Movies (Documentaries and Movies) Of The Deaf And Hard Of Hearing
There are many movies that are about the deaf and hard-of-hearing community. They include:
Sound Of Fury

Hear And Now

In The Land Of The Deaf

Touch The Sound

The Sound of Metal
Good Facts to Know About the Deaf Community
Did you know that if you could only read lips you would approximately understand 40% of what is being said in class? This is why many of the students in the DHH program have a paraprofessional to help them take notes 
Did you know that not every country has the same form of sign language? According to the United Nations website, there are over 300 official sign languages in the world 
Something you could  do to observe this month  are attend a Sign Language Club meeting, meet some of the deaf people in our community, and learn some sign language. Here is a website to help you learn ASL.
"I see more people interested in learning sign language, because they see it.. Tik-toks and Youtube.. And they are like "Omg that's so cool" Or "Back in my day It was finger spelling the alphabet on Kroger grocery bags.. They printed the alphabet with the hand shapes all over the grocery bags" said Wheat Ridge DHH teacher Allison Mant. 
As a deaf person I'm the same as everyone else but different, and the month of April helps everyone learn about me and my community.
"Kindness is the language which the deaf can hear and the blind can see." -Anonymous