Michael Sam: Not Just Another Football Player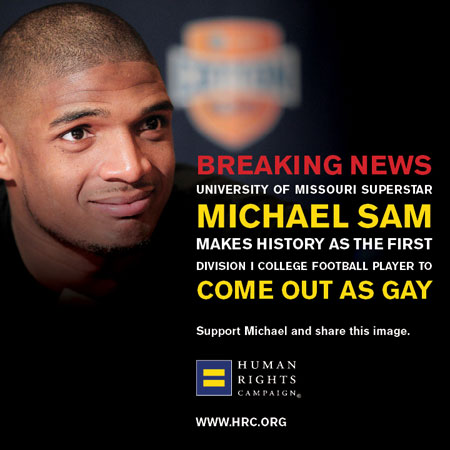 By Sterling Martinez
Michael Sam has done something monumental by owning his homosexuality publicly and proudly.
He came out to his team in August and then came out publicly in an interview with ESPN's Outside the Lines. Sam is a college football player. More specifically, he is a lineman at the University of Missouri and is on his way to the National Football League. Sam is eligible for the NFL draft in May. If he is drafted he will become the first openly gay football player in the NFL.
Although he is not the only professional athlete to revel his sexual identity to the public he has surely received more attention than Jason Collins, the  first openly gay NBA player, who signed with the  Nets and checked into the Nets game against the Lakers at 10:28 in the second quarter with the Nets leading the Lakers, 35-28. Collins came out last April after spending the 2012-2013 regular season with the Boston Celtics and the Washington Wizards and announced in a Sports Illustrated article that he was gay. Collins, the first openly gay athlete in America's four major sports, met with the parents of the slain Wyoming college student who was tortured and murdered in 1998 because he was gay. Soccer player Robbie Rogers came out publicly last February while also announcing that he would retire from professional soccer. Rogers changed his plans in May and joined the Los Angeles Galaxy and went on to play 11 games last season.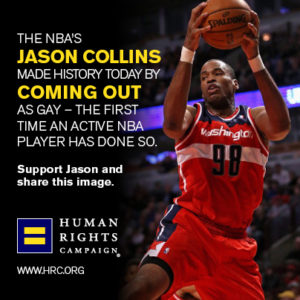 Because of the abundance of football fans in the U.S. Sam's announcement understandably is a very big deal, something Sam himself seems to understand just as much, if not more than anyone overlooking the situation. Sam said, "I understand how big this is. It's a big deal. No one has done this before. And it's kind of a nervous process, but I know what I want to be … I want to be a football player in the NFL."
Sam has already begun to get backlash from many people tied to the league. Former Dallas Cowboy's defensive end Greg Ellis inquired on KESN-FM, "If he pats somebody on the butt – I hope ESPN don't get mad and never have me back—but if he pats somebody on the butt, how is that to be received? People who've never been in an NFL shower room, not just locker room, it's an open room. We don't have private curtains. It's just an open-form shower, so everybody sees each in the nude. Well if you're looking at men as if you're looking at women or vice versa, how are those guys to receive that? I don't know how they will receive that. But I do know it would be a situation where I would go to the coach and try to work something out to say, 'Obviously this is going to be a problem. What can we do? The kid can help us play; can help us win football games. We need him on the team. But this situation right here, we need to do something.'"
Sam has also received a lot of praise for his decision to come out. In a Twitter posting, Michelle Obama commended Sam. In the posting, the first lady referred to Sam as "an inspiration to us all." She also said, "We couldn't be prouder of your courage both on and off the field." Vice President Joe Biden also tweeted "Thank you Michael Sam & all of the players, at Mizzou football & coaches at Mizzou – your courage is an inspiration to all of us."
One thing is for sure; Michael Sam is a name that won't soon be forgotten. Be it his great skill on the field or his great courage in the face of the public, he is definitely a player that stands out.