Avalanche Playoff Run Painfully Uprooted By Minnesota Wild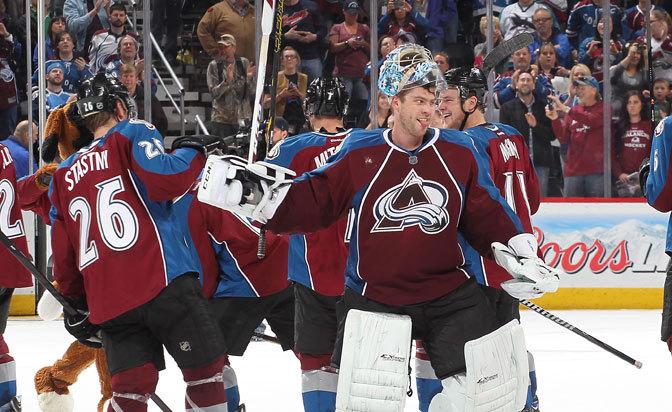 By Joe Schnebly
The Colorado Avalanche finally made it to the NHL Stanley Cup Playoffs. The last time was in 2010 when they lost in the first round to the San Jose Sharks.
Four years later, the Avs bounced back to the playoffs with former goalie new coach, Patrick Roy, and the top seed in the Central Division: their first round opponent was the Minnesota Wild.
The Avs had fared well against the Wild in the regular season, outing a 4-1 record against them. It would have seemed that the Avs would rush past the Wild.  However, the Wild did not go down without a fight.
During the first and second games, the Avs defense held the Wild to six goals and helped push the Avs offense to nine goals; leading 2-0 in the series. However, that defense was lost during the next five games, leaving the door open to score on Semyon Varlamov.
Prior to game seven, the home team had won every game on their home ice during the series. Game seven would prove which team really wanted to make the second round. It was a back and forth game that would have to be decided in overtime. The next goal decides who wins the series and goes on to the second round to face the Chicago Blackhawks.
As overtime began, there was a big scoring chance for the Avs with a breakaway by center Nathan MacKinnon. Goalie Ilya Bryzgalov, who came in the third period after Darcy Kuemper left with an injury, blocked the shot and shot the rebound to center ice. Niederreiter was waiting there for the puck and had a two on one chance on Varlamov. The puck went top shelf and bounced off the post into the net, ending the game in a 5-4 win for the Wild.
It was a bittersweet way to end the season but the Avs were predicted to be in last at the beginning of the season. If it wasn't for the hiring of Roy and former Av Joe Sakic as Executive V.P. of Hockey Operations in May of 2013, the Avs may have stayed in the last-place spot.
A couple of silver linings have come out of this series though; Varlamov and first round draft pick Nathan MacKinnon. This whole season, Varlamov and MacKinnon have both been great assets to the team. Varlamov is a finalist for the Vezina Trophy, MacKinnon is a finalist for the Calder Memorial Trophy and Patrick Roy is also up for the Jack Adams Award.
Despite its disappointing conclusion, the 2013-2014 season for the Colorado Avalanche was a huge success for the team, the city, and the state.