Boys 2015 Soccer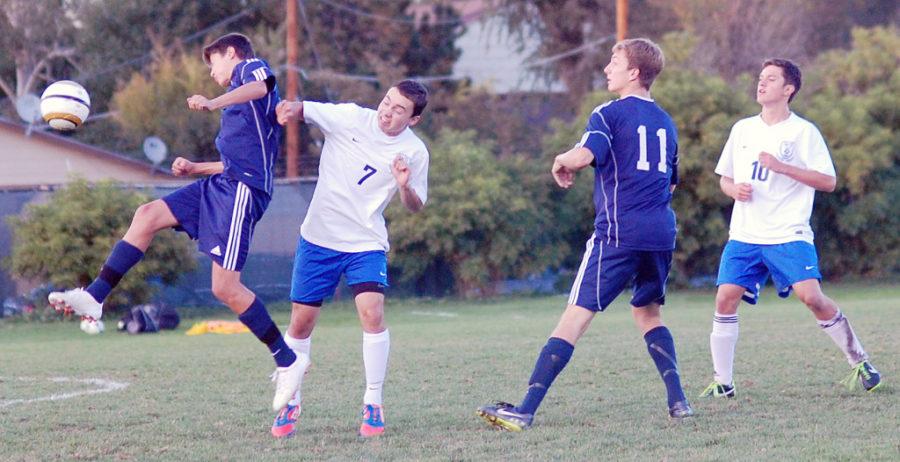 By: Gino Tate
Although winning is the goal for the Wheat Ridge boys soccer team, they are off to a rough start in this 2015 season with an overall record of 3-8-1.
"We are trying our best, but we just can't find a way to slide through our opponents" Says senior Matt Seal, who was voted the player of the game against Valor Christian. He shoots and scores!
Senior Jorge Baranda is the leading scorer for the Farmers with nine goals and one assist. "I am just trying the best that I can to make the most out of it" says Baranda."We have a lot to work on," says senior Walker Denton. The total shots kicked during this 2015 season so far are 154 and only 19 of them have been goals. Under head coach David Osse the boys soccer team is ranked 138th  in the Colorado state 4A high school rankings.
Wheat Ridge's next game is Friday night Oct. sixteenth at the Lakewood Memorial Field, against the Littleton Lions, who have a record of 5-1-1. It's going to be a tough battle for the Wheat Ridge Farmers as the Lions are ranked 3rd in the League. The following week, the Farmers will face off against the Standley Lake Gators with an overall record of 6-1, who are ranked 2nd in league and 26th in state.The Farmers will also kick it off against Cheyenne Mountain Oct. 22 at 5.  Although the Farmers have a tough schedule the rest of this year, they are ready to break away with two big upsets this Friday night and the following week, hopefully giving them a better seed in this upcoming 2015 4A Boys Soccer playoffs.