STEM Takes on the Motor City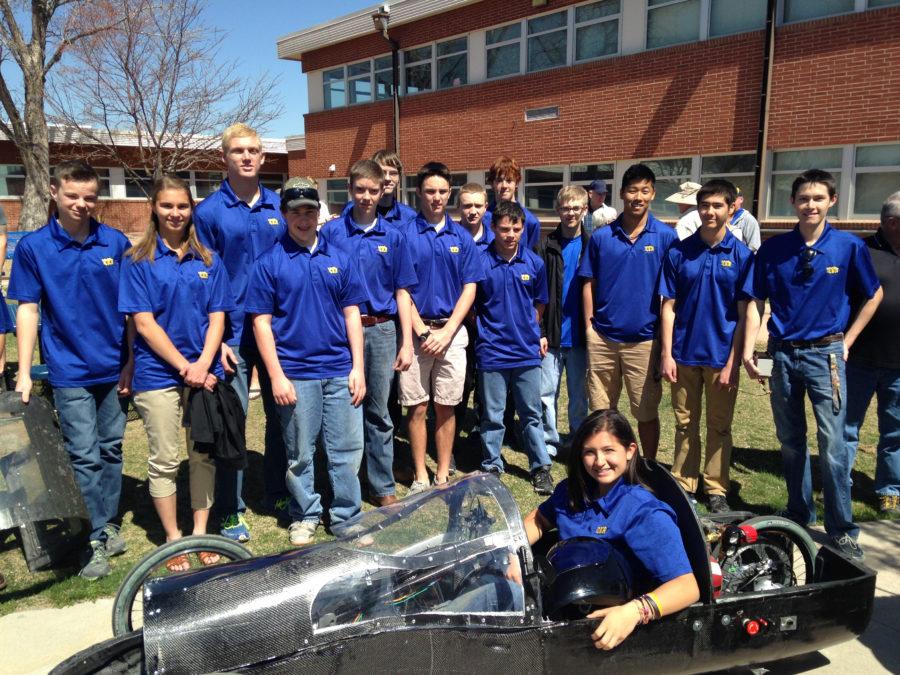 By Rachel Vigil
At the beginning of this year, competing in the Shell Eco Marathon was just a fun project for the Wheat Ridge STEM program.
"On the first day we decided to compete I told them just go for it!" said Chuck Sprague, the STEM engineering teacher at Wheat Ridge High School. What it became was a community project with a multitude of sponsors along with attention from many local news stations and a first-place trophy.
The Shell Eco marathon took place from April 11-15 in Detroit, Michigan. The goal of the competition is to design and drive the car with the best mileage in its fuel category. Wheat Ridge's team used a hydrogen cell on loan from University of Colorado at Denver.
Thirteen Wheat Ridge STEM students departed from Wheat Ridge to Detroit on Wednesday April 8. Their trip was all expenses paid, thanks to their multitude of sponsors. The City of Wheat Ridge, Westerra Credit Union, and The Farmers 5000 were among these supporters.
The first step of the competition was an inspection in order to make sure the car was fit for competition. In these inspections, the Wheat Ridge team did have initial trouble with their hydrogen fuel cell, but they luckily received a replacement on day two of the competition.
The actual competition was interesting according to junior Andrew Miller, one of the two Wheat Ridge drivers. "Many cars driving near us crashed along the way, but other than that it was really fun," said Miller. According to the Shell Eco Marathon website, though many teams crashed no one was injured.
A large number of the teams competing were from colleges rather than high schools. International competitors from Canada, Mexico, Guatemala, and Brazil were also present.
Wheat Ridge came in first place in fuel efficiency among hydrogen fuel cell cars. Sprague was their adviser and leader throughout the whole project. Their car had a mileage of 244 miles to the gallon. "We never expected to come and win," stated junior Nicole Ortega, the other driver of the car, "We expected to come and have a good time and do our best, but we never expected to do this well," she said.
For most teams, including Wheat Ridge, the best part was not just competing, but other aspects as well.
"My favorite part of the competition was seeing other teams and their cars. It was interesting to see how they interpreted the rules differently than we did," Miller said .
Next year, the Wheat Ridge STEM team would like to participate in the competition once again. This time, with two cars. They plan on using the same prototype as this year for one of their cars, and a whole new on the other. The STEM team also hopes to gain even more new students next year as well as the support and attention of the entire Wheat Ridge community once again.